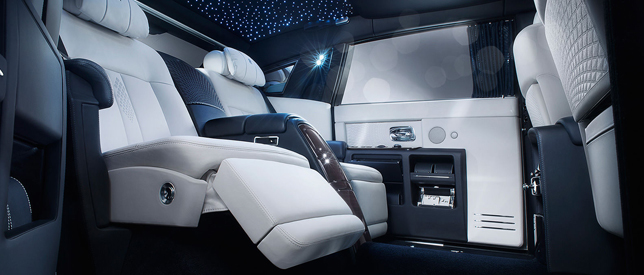 18

Aug

15
Here is the list of 10 car interiors that offers an exceptional place to spend time while making you feel special
Buying a new car is indeed a very special experience in one's life, people compare the features of one car to another to make sure that their buying decision is good enough and sagacious. Things that they must consider are, practicality of the car, fuel efficiency, comfort and styling, engine size and carbon emissions to save tax etc. etc. but one thing they always overlooked, it is the place where they spent their entire time while driving, the interior of that particular car.
This article shows the 10 most beautiful interiors picked by the author, while he thinks that these interiors makes you feel a very special person to drive that particular vehicle.
1.     Mercedes S-Class
No doubt about this technologically advanced masterpiece of Mercedes-Benz. A most advanced saloon car in its segment. It is very spacious with a long wheelbase and comes with a range of refreshed Mercedes-Benz engines to make it charming to drive. The Interior is just exceptional with cutting-edge equipment to ensure utmost comfort.
2.     Bentley Mulsanne
What one can expect from Bentley's flagship model? Power? Definitely it offers a mountain of power with a 6.7-litre twin turbo V8 petrol engine, but style wise, it is not the prettiest car to look at. There is still something that makes it arguably attractive Bentley ever made, its interior. More than 10 cows sacrificed for the upholstery only, a deadly car! Isn't it?
3.     Pagani Huayra
Powered by a 6.0-litre turbocharged V12, specially tuned by AMG division. It produces 730bhp to make Huayra a swift car to sprint at 230mph. It is not the single feature new Huayra offers, it also has a beautiful interior. Described as the finest ever fitted to any car. Details can simply boggle the mind.
4.     Aston Martin Vanquish
Aston Martin is famous for its elegant interiors and they kept the tradition alive in Vanquish as well. Along with a fascinated interior, it's powered by a 6.0 –litre V12 making 568hp that sounds like a world class opera singer.
5.     Range Rover
An off-road can offer excellent off-roading equipment and powerful engines but, it also offers countless features to make the Range Rover a luxury. The interior of the Range Rover is marvelled at premium quality materials and designs.
6.     Rolls-Royce Phantom
Rolls-Royce is identical with exquisite luxury and the flagship Phantom symbolises this seamlessly. It has a manly interior because its leather comes from bulls, not from cows, because they don't get pregnant or even stretched…
7.     BMW 7-Series
The state-of-the-art BMW 7-Series has been the brand's most scientifically innovative saloon yet and will rival the Mercedes S-Class. It's superior to its ancestor and offers more features inside and out.  Let's see if its interior appeals you or not…
8.     Audi Q7
All new Q7 has one of the best interiors fitted in any Audi models so far. It is wonderfully simple yet fascinating. It has a virtual cockpit that lets you configure the instrument binnacle to your taste.
9.     Bentley Continental Flying Spur
Another Bentley in the row, the Continental Flying Spur offers one of the most luxurious interiors as well. It has the premium quilted leather and elegantly designed dashboard. It's based on the Continental GT that makes it a comfortable cruiser ever in the Bentley list. It has a 4.0-litre V8 or a 6.0-litre W12 engine as the continental meaning.
10. Audi A8
The Audi A8 is luxurious enough to warrant its position as a rival to Rolls-Royce and Bentleys. Audi built quality and refinement makes it a charm for its riders. There are few engines available with most fuel-efficient diesel engines. It has marvellous 50 plus fuel economy.