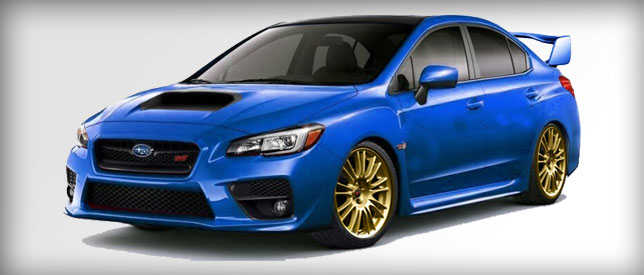 24

Dec

13
The all-new 2015 Subaru WRX STI with a new 2.0 litre engine will be unveiled at the Detroit motor Show
The all-new 2015 Subaru WRX STI is set to be revealed at the Detroit Motor Show in January. The real question is about the Subaru WRX STI Boxer engine, will it be unleashed with a new 2.0 litre turbocharged engine or the 2.5 litre turbocharged Boxer engine in WRX. Rumours suggest that Subaru will likely part its ways with the Boxer engine in its latest WRX STI and will install a smaller and more efficient 2.0 litre turbo engine which was also used in the 2014 Forester XT.
Every manufacture is downsizing their engines to achieve more and more efficiency but this doesn't mean less horsepower. In fact these smaller engines give more horsepower than the larger outgoing power plants if not the same. Car manufactures also need to do this to keep up with global emission standards. The 2015 WRX STI is likely to get the same 2.0 litre engine used in Forester XT, but expect it to be heavily tweaked. This means 5 more bhps taking the total power output to 305bhp.
Subaru is not going to stop here with the tweaks but it will make more upgrades to the WRX STI to squeeze out more bhp and torque. Mercedes CL45 AMG churns out 355bhp from its 2.0 litre turbocharged unit. The new Subaru engine will be placed lower in the chassis to give better weight distribution as well improved handling. The final package may lack bhp but improved performance is sure to make up for it.