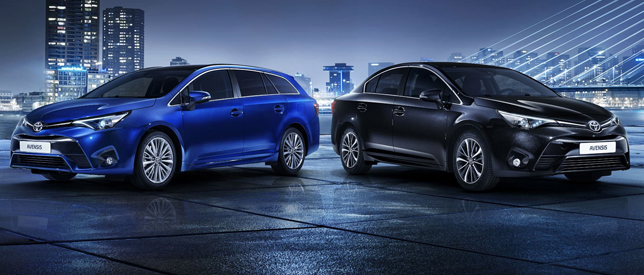 23

May

15
Toyota Avensis 2015 has received a major refresh with a comprehensive facelift and new engines
Toyota Avensis has received a mid-life revamp and now represents the most comprehensive facelift that the company has ever carried out for a specific model. This summer the updated model goes on sale in the UK. Toyota Yaris has had the second largest investment done on it by Toyota.
What's New?
The revamped Avensis comes with refreshed chassis and renovated interior, however the exterior also shows some changes. This new Avensis made its public debut at the Geneva Motor Show in March.
This time Avensis received a front end restyling, where LED headlights, bonnet and bumper shows a chrome strip all along the edges of lights and bumper. Rear end gets a stretched cluster of LED lights by 40mm.
Under the Bonnet
The new Avensis has received an updated chassis to increase the efficiency of the vehicle, improve the riding experience and handling. It has also received the elevated levels of insulation to ultimately lower the noise levels coming from road and engine compartment. It will keep the cabin environment calm when cruising on the motorways.
New Engine offered
Toyota has introduced two new diesel engines in the refreshed Avensis range. These are the new 1.6-litre D-4D and a 2.0-litre D-4D.
A newly sourced engine from BMW, 1.6-litre D-4D replaces the older 2.0-litre diesel, lighter than the old unit. It has a zero to 62 miles per hour sprint time of 11.4 seconds and has a top speed of 112 miles per hour. This engine is comparatively a cleaner unit and emits only 108g/km of carbon emissions. Toyota has claims to give 68.9 miles per gallon on average.
The new 2.0-litre diesel on other hand, has an average fuel economy of 62.8 miles per gallon and carbon emissions of 119g/km. It has been adopted as a replacement of 2.2-litre engine. It generates 141bhp of power and 236 lb-ft of torque with a zero to 62mph sprint time of 9.2 seconds.
Toyota France has designed this new Avensis and it will be produced at its Derby plant in the UK.