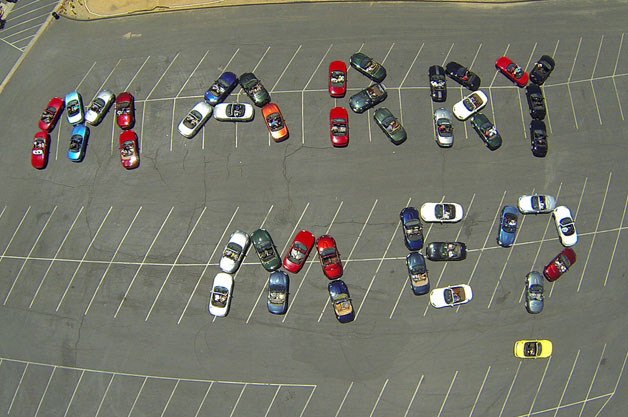 17

Jun

14
When 44 Miatas came together to spread love and happiness
At  Replacement Engines, we love to see a happy ending, People tend to ask the big question in many different ways from the usual candlelit dinner to the asking at half time in a football match. But this way of proposing has to be a new one and one that automotive fanatics would probably find very touching and heart warming.
A member of the Miata.net forum recently asked other MX-5 owners to help him pop the big question to his girlfriend. He already had 31 Miatas and needed just four more. He appealed online and over 40 turned up in the parking lot at the local high school.
The groom to be has an aerial photography business and with the help of a drone, he captured the image, 44 Miata roadsters arranged to spell out "Marry Me?" His girlfriend thought they are shooting for some local real estate properties. In case you're wondering, what was the response of the bride to be, it was a loud Yes! Wonder what they will be driving to the chapel on their big day.
Some of you may remember how the rider Murphy Mack from San Francisco traced out the words 'Marry me Emily' surrounded by a heart, using the free cycling software Strava used to record speed and routes. His girlfriend was so impressed by his romantic gesture that she said, 'Yes! I love you!'.
We hope they live a happy married life.