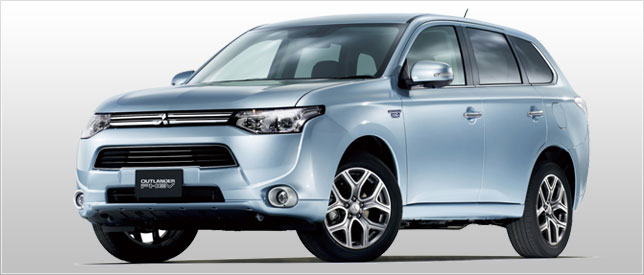 2

Apr

14
Competitive Prices
Great news for Mitsubishi fans as it opens the order books for the new Mitsubishi Outlander PHEV, with prices for the hybrid SUV starting at £28,249. This price includes the government's £5000 plug-in vehicle grant, and is for the entry-level GX3h Outlander PHEV. Two other versions, the GX4h and the GX4hs, are priced at £32,899 and £34,999 respectively. Usually hybrid vehicles attract significant premium over other models in the range, but the entry-level PHEV bucks the trend as it is priced exactly the same as the diesel GX3 auto. Other hybrid models attract a £1000 premium over diesel options, but Mitsubishi says this is due to their added specification.
High Mileage Low CO2
The hybrid SUV can achieve up to 148mpg on the combined cycle and emit 44g/km of CO2, which makes it one of the most efficient SUVs on sale, and is also exempt from the London Congestion Charge. Mitsubishi says the Outlander PHEV can cover up to 32.5 miles on electric power alone, with the range increasing to 512 miles when its four-cylinder 2.0-litre petrol engine is also used. The Outlander PHEV uses two electric motors alongside the combustion engine, each with around 80bhp, with a total power output of around 220bhp.
High on Safety
The car has a top speed of 75mph when running in electric-only mode, rising to around 106mph when powered by the combustion engine as well. Despite its hybrid technology, Mitsubishi says the Outlander PHEV is still "a fully competitive SUV with no compromises". The car also carries a five-star Euro NCAP safety rating. Owners can choose from three driving modes, named EV Drive, Series Hybrid and Parallel Hybrid. The first is an all-electric mode, while Series Hybrid sees the Outlander PHEV's 2.0-litre engine acting a generator for the electric motors. Parallel Hybrid mode means the engine provides forward power, assisted by the electric motors when necessary.
Loaded with Accessories
Entry-level models of the Outlander PHEV come with 18-inch alloy wheels, cruise control, dual-zone air conditioning and Bluetooth connectivity. GX4h models get integrated satellite navigation, heated front seats, a DAB radio and a reversing camera, while top-spec GX4hs models include adaptive cruise control and forward collision and lane departure safety systems. The new Outlander PHEV is likely to become an important model for Mitsubishi, as the company says it is renewing its focus on SUV and MPV production.