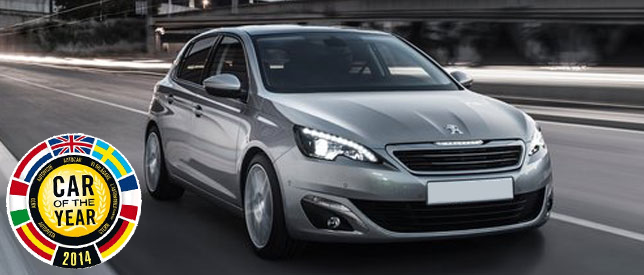 4

Mar

14
50 Years of European Car of the Year Award
The New Peugeot 308 has unexpectedly been named European Car of the Year 2014, edging BMW i3, Tesla Model S, Mercedes S-Class, Skoda Octavia, Citroen C4 Picasso and Mazda 3. This award has come as a surprise as it faced tough competition especially from BMW i3 electric car, recently voted car of the year. The 308 defeating the likes of Skoda Octavia and Mazda will come as a shock to many people as those models tend to outperform the Peugeot in group tests.
"With the new Peugeot 308, we were convinced that we had achieved a leap in concept, technology and quality and which would soon allow it a place on the podium for the category in Europe," said Maxime Picat, Director General of Peugeot, while accepting the award. "The prestigious 2014 'Car of the Year' award, which I receive today on behalf of everyone at PEUGEOT who has contributed towards the development and launch of the award winning new 308, is the best confirmation of this."
To be eligible for the ECOTY awards, models had to have been available before the end of 2013 in at least five European countries, and also had to have notched-up or be forecasted to reach 5,000 or more sales per year. There were 30 eligible models in total this year. And a host of seriously impressive cars failed to make it to the shortlist, including the Jaguar F-Type, BMW 4 Series, Hyundai i10, Ford Kuga, BMW X5 and Kia Carens. Last year's winner was the Volkswagen Golf. While other previous winners include the Vauxhall Ampera (2012), Nissan Leaf (2011), Volkswagen Polo (2010), and Vauxhall Insignia (2009). The Peugeot 308 went on sale in the UK in January and is a big step-up in quality from the 307. The car is also in the running for the 2014 World Car of the Year Awards. Launched last year in Europe, the Peugeot 308 is available with nine total engine options and has sold more than 55,000 models in less than six months.