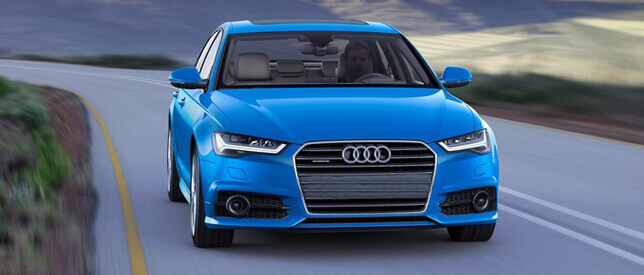 23

May

16
Elegant new looks and designs of AUDI A6 powered by new engine technologies
A graceful new exterior design, space-age autonomous technology and efficient hybrid powertrains will be the main bullets for the upcoming fifth-generation saloon which is expected to show off in the Frankfurt Motor Show in Germany in September 2017. The new and stylish AUDI A6 will be efficient in every sense of the world. Everything including from AUDI engines to the on board tech will be fresh.
This should ensure and reveal that the AUDI A6 can compete the latest E-class Mercedes which is also in coming news in mid-2017.
Exterior and Interior Designs
The exterior and interior design are the areas where we will find the significant changes. Classic and patent AUDI styling elements like the single frame grill will remain same. The new and dashing add ups in the looks are the slimmer and attractive LED lights, a more powerful front bumper and the stylish back haunches with dashing lights. These will give attractive and stylish looks to the new and upcoming AUDI A6 showroom model.
AUDI A6 is going to share its new MLB platform with the A8 by reducing 100 kg of weight. It means that it will be the first mainstream AUDI models to feature the 48-volt electrical system and electrical turbocharging from the new SQ7.
AUDI A6 Engine Details
The A6 will share its new MLB platform with the A8, reducing weight by around 100kg. This means it will be one of the first mainstream Audi models to feature the 48-volt electrical system and electric turbocharging from the new SQ7. The electric turbo technology is likely to be functional to a 2.0 litter four-cylinder diesel engine.
Of course, the regular 2.0 diesel will make up the bulk of A6 sales, alongside a range of four-cylinder A6 petrol turbo engine and six-cylinder diesels. A frugal plug-in hybrid e-tron technology will also make the AUDI A6 engine more efficient which enables it to cover 32 miles on battery power. More likely is that the AUDI A6 will remove the availability of manual gearbox, offering the A6 with seven and eight-speed dual clutch autos only.
AUDI A6 48-volt electronic system
It will also feature a raft of new autonomous kit that we can also see in A8. It will feature the piloted driving tech like traffic jam pilot. This will allow the control to the vehicle, allowing it to shift speeds and steering inputs independently at speeds up to 37 mph.
Till September 2017, hold your nerves to see the fully loaded package of AUDI A6.