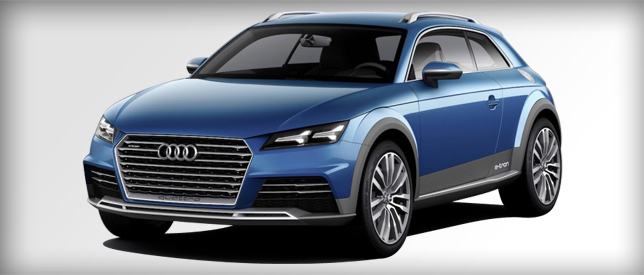 13

Jan

14
Future TT Styling Previewed
New crossover concept hints at new TT
Body Made from carbon fibre-reinforced polymer (CFRP)
Audi has unveiled an allroad shooting brake concept for the Detroit Motor Show and Audi says the styling shows the pinups of its future sports cars, including the next TT. In the pictures you can see hidden TT cues as there are pumped up wheelarches, bold crease running the length of the flanks and even the shape of the rear lights are all a next stage of those found on the current TT. Although Audi's new, more angular nose and horizontally slatted grille help to keep the styling modern.
Audi plans to have lightweight body panels made from aluminium and carbon fibre-reinforced polymer in its future models. Even the wheels are CFRP. The interior is a class apart as it is clean, simple and high-quality takes it to a next level. The controls for the ventilation, are hidden in the vents themselves, and extend when they sense a hand approaching. In addition, if the driver makes adjustments to the seat, the centre console will move to help keep all the controls within easy reach. The central display has gone, replaced by a large colour display in front of the driver. This  will most probably like most of the other design will go into the TT.
Under the bonnet, it will have one of Audi's e-tron electric drivetrains. The plug-in hybrid comprises a 2.0-litre TFSI petrol engine with 288bhp, boosted by a 53bhp electric motor. It is mated to a six-speed dual clutch transmission which drives the front wheels. There is a second electric motor mounted at the rear axle, which gives 112bhp, which powers the car on its own or with the rest of the drivetrain for full four-wheel drive. Audi claims the car can travel 31 miles on electric power at up to 80mph, and return 148.7mpg.