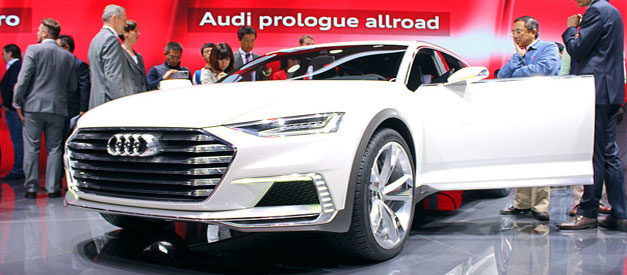 29

Apr

15
Audi Prologue concept revealed at Shanghai Motor Show with 724bhp
Audi has taken the wraps off Prologue Allroad concept at Shanghai Motor Show. It will hit showrooms with 724bhp petrol-electric hybrid and the concept is demonstrates the future design skins.
Audi has given another glimpse of their future designs by showcasing the Allroad for 16th Shanghai Motor Show. The new design offers 724bhp electric hybrid powertrain with petrol engine and it is essentially a jacked up duplication of Prologue Avant concept which was shown at Geneva Motor Show.
The primary purpose of the high riding Audi estate is to show that how bigger Audi versions will look like in the future. A trapezoidal grille design with swept back headlights and sleeker and curvier profiling. The new Allroad gets 77mm additional ground clearance and a traditional SUV body. It has great and stylish arches and curves around both bumpers.
Audi's new design boss said that it is a great effort from Audi design team. Mark Lichte is intent on making his mark on the firm's design language for future models. The current Allroad is about 185mm shorter than the new concept and the new concept is based on the A6 Allroad.
The latest powertrain is fixed under the bonnet of the concept which is borrowed from the RS6. A 4.0-litre twin turbocharged V8 petrol engine produces 598bhp of power. In Prologue coupe concept it is mounted with an eight speed dual clutch automatic gearbox. This combination in Prologue Allroad produces 724bhp and 900Nm of torque.
A 14. KWh lithium ion battery pack provides an all-electric range of 34 miles. On other hand it returns 117.7mpg and CO2 emissions of 56g/km. It is impressively swift with 0-62 miles per hour in 3.5 seconds.