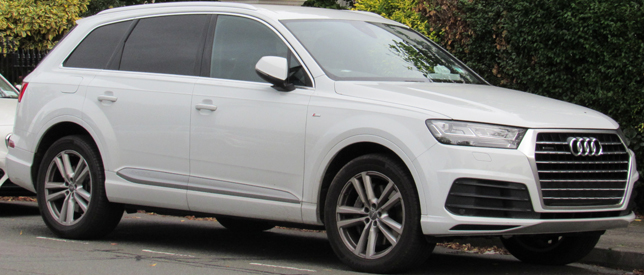 10

Mar

21
When you go after additional specification by adding higher trims, the price of the vehicle sharply increases
A top luxury SUV now a day must have an appealing exterior and Audi Q7 worth your attention. Convenient getting in and out due to low floor height but little ground clearance clearly indicates not fit for off road adventure. Beautifully designed wheels, sleek headlamps and front grill design inspire a modern look.
The interior is spacious and loaded with technology features. In this way, Audi has not missed the basics of luxury SUV in Audi Q7. The engine of the vehicle also superb as a combination of power and acceleration agility makes you a fan of it. Audi Q7 replacement engines are of similar power so when you replace the original power unit performance gets improved.
When you go after additional specification by adding higher trims, the price of the vehicle sharply increases. The third row of seats is usually not for adults and this SUV, not an exception. When the third row of seats in use then little cargo space left. The sharp look of the vehicle tells you much about sporty nature and drive dynamics and drive experience to verify this feel.
Being an upscale big family car, it is not cheap to own. Fun to drive element has been kept intact so driving makes big difference. Two turbocharged engines are offered to buyers and both give you desired level of performance.
Four cylinders 248hp power producer and V6 335hp power producer. For quick acceleration and high-speed cruise on motorway both prove their worth. Quattro all wheel's drive of Audi enhance thrill element in drive and it is standard for all models of Q7.
Base level Audi Q7 and top model Prestige 55
It is not affordable to keep spending big amounts after owning a premium luxury transport. His is why used Audi Q7 engines for sale attract buyers facing engine problems. The price difference of the new power unit and used car engine is big so you go with later, particularly when sellers offer you a warranty.
Base level Audi Q7 and top model Prestige 55 are altogether two different vehicles but the extra money you spend on the top model can let you have another new car. Base level four cylinders unit has the power to haul this big seven seat vehicle without producing grunt so keeping in view running cost the same is recommended.
Premium Plus trim is next to a base level so not very expensive to own. A 248hp powered engine and Premium plus trim makes a good duo without burdening you much. This little leap from entry level model gives you a lot of extra features, which change the ride and drive experience of occupants of the cabin.
Wireless smart phone charging pad, surround sound system, power door mirrors with memory, ambient interior lighting and bigger wheels. Best you get after paying little difference of base level and Premium Plus.
Latest Audi Q7 offers some new standard features
When a car engine fails or starts performing poorly then Audi Q7 remanufactured engines can be a good choice. Adaptive air suspension does very well to ensure premium luxury ride character and sharp handling. Competition for the vehicle comes from big names so Audi has put best efforts into this vehicle in order to remain in the contest.
All round performance of Q7 has strong appeal for buyers and it is a complete package of luxury. A new model of the lavish vehicle must have notable changes otherwise buyers do not find it attractive. Latest Audi Q7 offers some new standard features to improve the drive experience further.
Blind spot monitoring and rear cross traffic alert have been made available in all models of the car. On the other hand, optional packages have been made lucrative by adding new features. The convenience package gives you heated steering comfort and all-round view of the vehicle with 360-degree camera system.
Premium Plus packages have also included an executive package. Warm weather, cold weather and drive assistance has been added in one package so that buyers can get maximum luxury in all different kinds of weather conditions.
Some more parts of the interior have received leather covering and rear heated seats become standard in few models. With these big improvements, you get more value for your money and also a strong reason to spend money on a new Q7 model rather than continue with the previous year Audi Q7.
Four cylinders 248hp power unit is not new
The newly introduced Executive Pack is also recommended because you get adaptive cruise control, lane keeping, four zone auto climate control, heated and ventilated seats and liberty to adjust front seats in 12 ways using just buttons. Rear row passengers get heated seats and all-weather mats also part of the Executive Pack.
Four cylinders 248hp power unit is not new for Audi Q7 but remarkable engine performance has made it a good choice even in the new model. The addition of the V6 turbocharged engine having 48 volts battery assistance gives buyers choice as well as the right kind of appeal to cross the 60-mph speed mark in just 5 seconds. You can have different types of wheels in terms of sizes. High performance tires also offered to give you something extra but again you have to pay for these tires. Four wheels steering helps to improve handling further and it is present in the list of options.