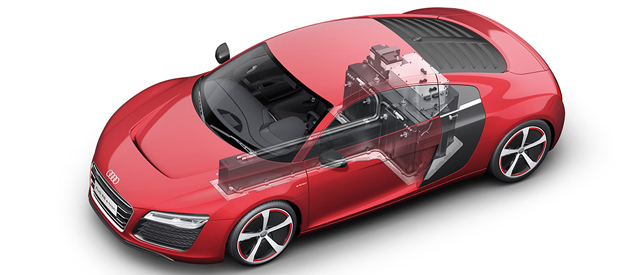 10

Apr

14
Audi R8 e-tron has a massive battery pack to cover the distance of almost 280 miles from a single charging cycle
Audi folks proclaim that new Audi R8 e-tron has a massive battery pack to go for a long distance capability that will cover the distance of almost 280 miles from a single charging cycle. On the other hand, Tesla Model S is already covering a 261 miles distance from a single charging cycle. Audi technology chief addressed at Audi's annual press conference and explained all these facts about long distance from an ultra performance car. There are some more facts floating in the news like the e-tron version will be available soon but upon request.
The fact that the car will soon be available "upon request" is also news. The project was thought to be put on ice, until last year's green signal from Audi, saying that Audi is working on the assignment of upgrading its lithium-ion battery technology in order to double its range. Audi spokesman Brad Stertz said the corporation wasn't unveiling information associated to the introduction of R8 e-tron that when the car would arrive at North American markets and the prices are also a mystery but a wild guess says it would be a big amount. However these things are almost before time to discuss but notable thing is that the project is back on the way of development.
This model was in news in summer 2012 when R8 e-tron set the series production electric car speed record at Nürburgring racing track with 8:09:09 minutes at a top speed of 155 miles per hour. Now several Audi officials are hopeful that R8 e-tron will soon be available as its mileage range is extended to 280 miles.