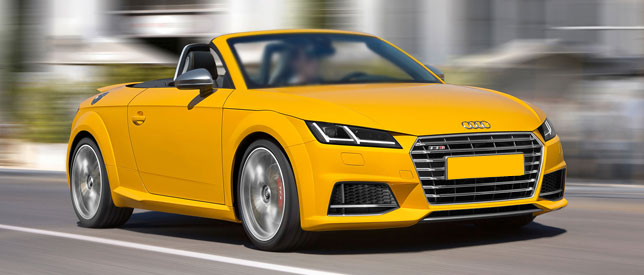 2

Oct

14
The third Generation Audi TT Roadster will go on sale from November
Audi has revealed that its new third-generation TT Roadster will go on sale in UK from November, and first deliveries will be in next March. It will be around £2,200 expensive than the recently unveiled third-generation TT Coupe, which is priced from £29,770. There is no official word on pricing but the TT Roadster 2.0 TFSI will probably start at £32,000.
The new car has a more cornered grille and new shaped headlights have complex LED internal graphics. The bonnet is heavily moulded and new structure has been added to the lower section of the front bumper. The Audi emblem has also been moved to the front of the bonnet.
The new Audi TT Roadster has an automatic spoiler that comes in to action at speeds above 75mph and more angular tail lights that shows off distinctive LED graphics. The new car is built from a mix of aluminium and steel construction which means the total weight for the TT Roadster 2.0 TFSI is 1320kg whereas the previous model weighed a claimed 1315kg.
The new Audi TT roadster is based on Volkswagen's MQB platform. Its roof can open and close at speeds up to 31mph. The boot capacity is 280 litres which is 55 litres less than its direct rivals BMW 2-Series, but 30 litres more than its predecessor.
Audi engine line-up for the new TT Roadster is the same as of the recently launched TT Coupe, whereas outputs for four-cylinder petrol and diesel is different. The choice of gearbox varies from a six-speed manual or optional six-speed S Tronic gearbox whereas the choice for front or four wheel drive depends on the model you buy.
The first engine available in UK will be a turbocharged 2.0-litre direct injection petrol unit that churns out 227bhp and 273lb-ft in the top of the spec TT Roadster 2.0 TFSI. The new TTS Roadster gives 38bhp and 22lb-ft more than the model it is replacing. All these changes to the four-wheel drive system mated to a six-speed S Tronic dual-clutch gearbox means it only takes 4.9sec to go from 0-62mph, which is 0.6sec faster than before. However, the top speed is still limited to 155mph. The new Audi TT is certainly a niche-buster and we will have to wait and see how far it goes to challenge BMW and Mercedes.