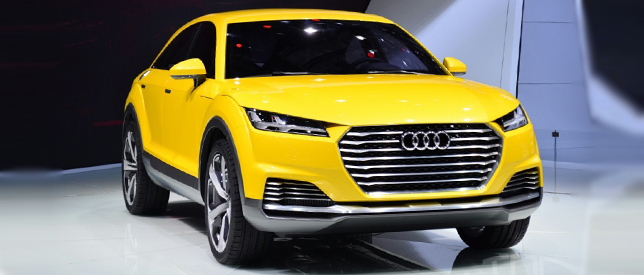 26

Jun

14
Another Offroad Concept from Audi
Audi is looking to take the fight to the BMW X4 and Range Rover Evoque with this TT Offroad Concept. It hints at a production car set to be badged Q4 or TT-Q. Curvy, sculptured and deceivingly compact, the TT Offroad Concept is instantly recognisable as part of the TT family. The narrow LED headlights, sharp chrome grille and F1-style bumper make it looks like a TT SUV.
At its debut in April at Beijing Motor Show, it had plug-in hybrid tech. It combines a 292bhp 2.0-litre TFSI turbo and two electric motors. The result is 402bhp delivered via Audi's e-quattro system. Just press the steering wheel-mounted starter button and the system comes to life. It's actually faster than the TT-S Coupe, doing 0-62mph in 5.1 seconds with a 155mph limited top speed.
There is a 12.3-inch TFT display and the cabin is driver focused. The interior is clean and effective showing its capabilities. There's more legroom than in a standard TT and you can fit adults in the back too.
It has as 31-mile electric range and a top speed in excess of 80mph. Better still, Audi says the TT Offroad will be capable of 149mpg. This intriguing package neatly blends efficiency, performance, striking looks and classic TT heritage with little compromise. Once the production is green light. Once that happens, we could see the car on the roads as soon as 2016.