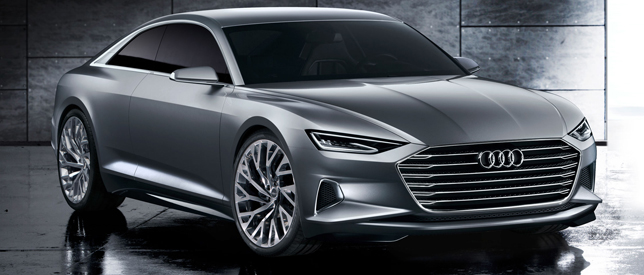 19

Nov

14
Audi prologue concept hints at future designs
The Audi prologue show car has been revealed at the Los Angeles Motor Show and hints at a plush two-door rival for the new Mercedes S-Class Coupe. The design points towards the next-generation A6, A7 and A8, as set out by newly appointed head of design, Marc Lichte.
The two-door coupe features a 4.0-litre TFSI turbocharged petrol engine, tuned to produce 597bhp. There's 750Nm of torque, helping it race from 0-62mph in just 3.7 seconds. That means if it was to make production, it could out-pace the flagship £183,000 Mercedes S 65 AMG Coupe, which takes a slow 4.1 seconds for the same benchmark sprint.
However, it'll emit just 199g/km of CO2, thanks to a 48-volt 'mild hybrid' system that captures wasted energy under braking. The prologue also features an eight-speed automatic gearbox mated to Audi's famous quattro four-wheel drive. The dashboard integrates three touch displays, allowing the driver to control everything from lighting to multimedia and the car's safety assistance systems on one either side of the steering wheel.
The interface is said to visually adapt to the specific driving style while an innovative and intelligent software system will identify and communicate with the driver and passengers via their smartphones. The clever tech can adjust the seats and climate control settings according to their preferences and also make changes to the route plan and recommendations for music throughout their journey.
The front passenger faces another large widescreen display, used to individually control entertainment features, and even programme pre-configured routes to the driver's sat-nav display.
What do you think about the new concept? Let us know in the comments section below.