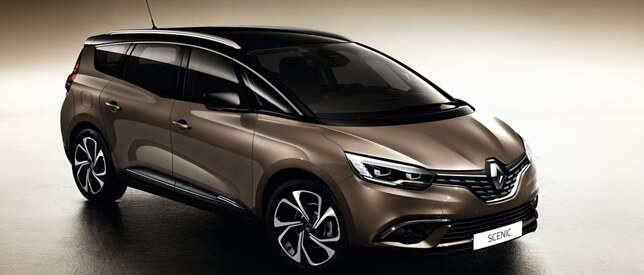 24

Jun

16
Smart, Intelligent and salient features of Renault Grand Scenic that others hardly offer in the market
Why Renault Grand Scenic engine is so appealing?? Let's have a look and start from the style. It's a fully equipped Renault Grand Scenic which was the first car of its kind in the MPV line-up. Space efficient and tall family car with all the specs a conventional hatchback offers. Renault Grand Scenic engine is considered to be the most powerful and steady power unit in the MPV segment. It is equipped with 1.5-litre dCi 110 EDC with an automatic gearbox.
Inner Section of Renault Scenic
Space is one of the big reason of buying Renault Grand Scenic. There is more than enough head and leg room inside. Rather than pure space, the various interior layout options attract the Grand Scenic buyers.
The 63 litre of storage space (excluding the boot space) make it the leader in the MPV segment. Comfortable driving experience and luxury interior is the main part of Renault Grand Scenic. The Multi-scene technology of the wheels is smartly optimised.
Dual zone climate control
The spacious and amazing air conditioning feature of the Grand Scenic is dual zone climate control system.
It not only sets the temperature of the car according to the set temperature but also has the ability for each person to choose right temperature for them to the nearest degree.
Smart rain and light sensors
Renault Grand Scenic is not only smart but also intelligent. That's why it reads the weather conditions in the dark as well. In the rainy condition, you don't need to switch the wipers on. Your front windscreen wipers and headlights will turn on automatically in the event of showers or when night falls.
Safety Features
With the other excellent features, the Renault Grand Scenic is fully loaded with marvellous safety features like automatic parking brake system, front and rear curtain bags, ABS with EBD (electric brake distribution) & brake assist, cruise control with speed assist, tyre inflation kit and a spare wheel and much more.
These features enable and ensure a stress-free and comfortable drive for you and your family.
Renault Eco2 Technology
Renault Grand Scenic is not only fuel economic but also ecological friendly. It has gear shift patterns and has the option of the fast gear changes and controlled fuel consumption and CO2 emissions. You can shift the gear according to driving conditions. That's why Renault Grand Scenic engine is considered to be smart and intelligent.