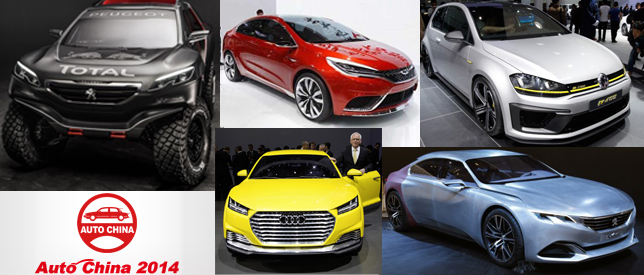 24

Apr

14
The Beijing International Auto Show is the best place to introduce ever-more noteworthy models
Beijing is making its significance everyday as China has been declared an emergent auto market and all the European and world cream of manufacturers coming to China. They choose the Beijing International Auto Show to introduce ever-more noteworthy models and we have selected the stars of the show until now.
1- Audi TT Off-Road Version
The TT is one of the well known models of Audi and this time at Beijing Auto Show the TTQ, an off-road version has been introduced as a concept. Audi said that the model will soon be called for production. It is a magnificent volte-face of the iconic TT but in an urban SUV form. The TT Off-Road Concept is a master piece and the best Audi to be seen in years as Audi claimed to "merge the sportiness of a coupé with the everyday life and effectiveness of a compact SUV".
2- Chery Alpha Concept
Faraway from an understandable preference, but the Chery Alpha, a cool saloon along with the Beta SUV concept is noteworthy in presenting that even Chinese car makers are serious about making attractive cars by their own devoid of any Western association or connection through a joint venture. Chery is doing great but just imagine when they start producing automobiles in a joint venture with Jaguar Land Rover what it will come up with in future.
3- Peugeot Exalt
Peugeot boss Maxime Picat has said; "Peugeot could put the Exalt concept into production for the Chinese market," "we don't want to give up on saloons in Europe and it's possible to sell the SUV across continents though it can't be exactly the same product. Chinese customers need a larger boot and more space." Peugeot Exalt is a wonderful concept, made further attractive by the self-confidence that it shows and the truth is that there's a strong possibility of it becoming a production car.
4- Peugeot 2008 DKR
Peugeot for the first time comes again to the Dakar Rally after almost 25 years with its 2008-based challenger. Peugeot has preferred to build its two-wheel drive race challenger, rather than all-wheel drive. After its triumph at Pikes Peak, Peugeot has decided to return to the Dakar Rally in 2015.
5- Volkswagen Golf R400
Volkswagen has clearly indicated its objective to retain the most powerful hatch in the world and to take on the of today's mega-hatches. They have introduced a stunning R400 Golf with a 395bhp Volkswagen engine from its seventh generation. The swift new hatchback is the latest in an extensive line of Golf concepts. It has been aimed at the Mercedes-Benz A45 AMG, BMW M235i and Audi's second-generation RS3.
Tagged
Audi for sale
,
Audi News
,
audi tt
,
AUTO NEWS
,
Auto World NEWS
,
beijiing auto show
,
car news
,
china auto 2014
,
golf
,
Peugeot
,
Volkswagen Diesel
,
VW NEWS
,
VW. Volkswagen