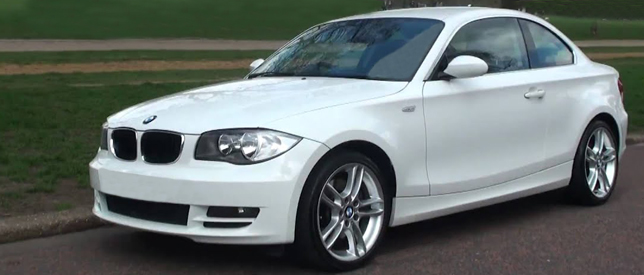 5

Jul

21
For a diesel engine car, maintaining a balance of performance and economy is easier
Little BMW 1 series gem, BMW 123d is pleasant looking small car with great fuel economy appeal. New four cylinders power units introduced by BMW for 1 series of cars and these are big. The 2.0-litre engine has a power limit of 204 hp and torque of 295 lb-ft.
With these figures, the car reaches the top speed mark of 60 mph in 6.7 seconds so the little car is packed with great muscle. While doing this sprint in very little time fuel economy remains 5.2 litres for every 100 km. carbon emission is also related to these figures and buyers are quite concerned with it. 135g carbon emission for every kilometre is not very high so you can consider it a good car for the environment with sports car like a punch.
A split grill at the front with broader front lights and creases at the side makes it just like any other modern day car. For a diesel engine car, maintaining a balance of performance and economy is easier and this little car of BMW also proves it. This hatchback is practical too and for buyers carries more appeal. It has got a first aluminium engine with more power than usually produced by these engines.
The car is the first of its kind in many ways with superb drive dynamics. The use of fine materials and excellent finishing is also characteristic of this car. BMW cars either big or small make a great strong impression and improve with the passage of time. Reconditioned BMW 123d engines are reliable among used car engines present in the market.
Maximum torque becomes available at 2000 rpm
Fun to drive element is greater in this diesel engine car so no rival with diesel engine match BMW 123d. The fuel economy of the car is also unmatched and the performance it shows reveals the engineering excellence of BMW. The drive experience is dominated by engine performance and handling excellence.
Speed pedal responses promptly to give you a feel of the punchy drive. Maximum torque becomes available at 2000 rpm so you get the thrilling increase in speed at low revolutions. The maximum speed of the car is achieved at 4400 rpm. It is a very good choice for a quick drive on busy roads.
The size of the hatchback is ideal for manoeuvring and quick acceleration keeps it agile. Parking not a big deal and you can easily find a place for the car. Variable twin turbo technology engine was first introduced for BMW 5 series vehicles but then has been made available for other cars too.
For a four cylinders unit, it has been used for the first time in BMW 123d. Twin turbo technology gives a boost to acceleration and buyers enjoy desired drive experience after holding the wheel. Some changes have been made to this technology as well to improve efficiency further. The basic system remains the same to boost acceleration in little time. The two turbochargers work at different times.
At low speed the first one comes into play, it is a smaller one as a requirement of strong pull not high then the other turbocharger starts functioning when the speed crosses a certain limit. With the increase in speed, the need for large turbocharger functioning becomes necessary.
At low-speed pressure is generated by the small turbocharger
It is engineering excellence of BMW staff and they deftly use twin turbo system with frugal nature of diesel power unit. Replacement for BMW 123d engines is the choice of buyers with a plan to keep driving the car. This car has the quality to give you sports car like punchy drive at slow as well as at high speed.
So when you take it to the highway you will find it a nice choice to cruise and overtake. At low speed, pressure is generated by the small turbocharger and at serious speed, the larger one starts functioning. When you push the pedal from the idle position you find it ready to respond and it is praised by drivers.
It is the best diesel engine model of 1 series so you surely prefer it over other options on the list. The new engine of four cylinders is also present in other 1 series models with diesel engines. Diesel engine 1 series cars kick off with 118d and then comes 120d model and finally the car we have been discussing. This is why the car has a special place among 1 series vehicles.
Details of any engine disclose its condition
The new engine is lighter in weight and this makes the car quicker and increases fuel average figure. Exactly it is 17 kg less in weight than the previous engine installed in 123d. Used BMW 123d engine for sale replace the faulty unit under the hood and keep your car in perfect running condition.
There are different types of used car engines and buyers must go through their details. Details of any engine disclose its condition and sellers may also provide a guarantee of performance too. Rebuild and remanufacture engines also present in the used car engine market. Space inside the car is good and at the rear most you can put decent size luggage as well. Rear passengers do not have as much space as front seats' occupants. Three doors and five doors body designs are present and later is a little slower in a sprint than the former. The top speed is 147 mph and you can run this strong footed car at serious speed.