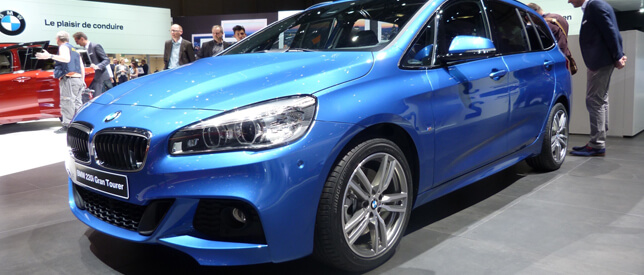 15

Feb

16
BMW 2-Series Gran Tourer predominantly front wheel drive is a premium badge appeal
BMW is famous for its rear wheel driving cars but this model is predominantly front wheel drive and maybe the second in the line-up. Being a seven seater version of the 2-series Active Tourer which was launched in 2014.
BMW 220d diesel engines powered versions are available but they are bit expensive with the xDrive technology. This technology distributes power equally to all wheels. The BMW underpinnings find its direct way into the BMW 120d diesel engines, X1 series and several Mini models.
Practicality as Key Focus
BMW 2-series offers family friendly practicality with seven seats, it is the key focus of BMW 2-series Gran Tourer. Performance is not a priority of the majority of cars that used to facilitate the families but this specific version used to offer more performance and speed if you desire.
BMW Powertrains offer Economy
BMW designs powertrains with a focus on efficiency and performance, majority of powertrains offered in the 2-series are top performers and proved cheapest on the go. Such as, in 216d, manual gearbox offers up to 70 miles per gallon and carbon emissions of as low as 108g/km.
BMW however, claims 65 miles per gallon with the emissions of 115g/km. both manual and automatic gearboxes have almost identical efficiency states when it comes to BMW 218d engines.
BMW 220d xDrive Automatic
BMW 220d xDrive automatic gearbox, according to our experts, disgraces itself when it comes to the fuel economy, claimed at 57 miles per gallon and a lofty carbon emission of 130g/km.
it is even slower at zero to 62 miles per hour with just under 8 seconds.
BMW 2-Series Grand Tourer Petrol Engines
Petrol engines are mostly opted when people used to travel shorter distances and 218i engines return lowest running costs with acclaimed fuel economy of 53.3 miles per gallon. These engines have relatively larger carbon emissions of 126g/km.
BMW 220i engine returns the power of 189bhp and passes the 62 miles per hour mark in 7.9 seconds when it mated to automatic transmission, manual on the other hand, takes 7.7 seconds. These engines return a fuel economy of 44 miles per gallon with a carbon emission of 145g/km.