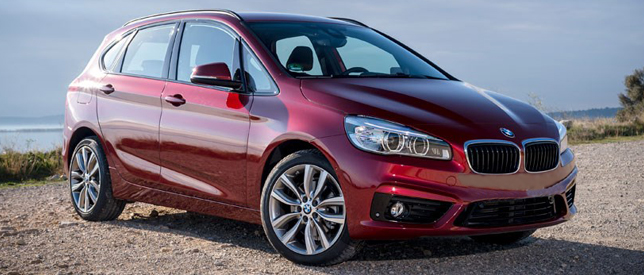 14

Nov

16
BMW 220d is premier brand of BMW with excellent technique and powerful engine
Life is truly so unpredictable. You never know what will be going to happen the very next moment. So, in order to live life in real means you have to take risks and enjoy adventures. And the only companion you need in your life for adventures is a speedy car, a car which is strong enough to bear all the risks and takes you comfortably on any destination.
In my opinion, only BMW Vehicles can meet with your requirements. BMW is a promising automobiles manufacturing company serving its people loyally all over the world. It is a German firm with headquarter in Munich, Bavaria, Germany. All the vehicles of BMW are efficient and having potential to run smoothly on uneven roads.
Let's have a look at the BMW 220d xdrive Active Tourer. BMW enlarges its family car story in style with 2 Series elegant model 220d xDrive Active Tourer. The vehicle has M-package, comfortable four-wheel drive, which these days underline safety and outstanding engine and gearbox.
Given the picture of this first BMW compact MPV, the opinions are rather mixed. It is very true that the car furnished with M sport package and painted in striking colour raises a lot of focus and looks full of desire.
The fact that you are riding a real decent BMW is felt at every turn. Besides, the magnificent BMW 220d xDrive Active Tourer has no serious competitor with respect to the driving dynamics, excellence of engine and the 8-speed automatic (non-manual) gearbox, to seriously challenge at the moment. The complete pack you get with this graceful car is really good, but do not forget the cost of this giant, which is somehow high.
BMW 220d Engine
While looking at its engine deeply, we learn that 220d xDrive Active Tourer is motorized with the powerful two-litre turbo charged Diesel Engine. With huge 190 horsepower and 400 Nm of torque, it has really more than enough power with concern to higher travel speeds on the highway and a very dynamic driving exercise on curvy or uneven roads.
The scale of fuel consumption is quite interesting. In blend with the neat ECO pro driving program, active start and stop system and taking the components of eco-driving into account, this BMW is entirely satisfied with under 5 litres of diesel for almost every 100 kilometers.
In normal driving conditions and average driving style the consumption is probably between 6.8 and 7.5 liters, depending on the figures of kilometers traveled in town and on open roads.
Really awesome 8-speed automatic transmission ideally cooperates with the engine. It is never late and never ever confused. The changes of gear are instant and refined, even in manual (non-automatic) mode through the lever on the steering wheel. It perfectly regulates to different driving programs i.e. sport (dynamic mode), comfort (comfort mode) or ECO PRO mode (saving mode).
Conclusion
To conclude I can say that it is surely very difficult to detect any flaw in BMW 220d xdrive Active Tourer. It is literally the driving champion of 2 series. The powerful and long lasting engine will surely provide you driving pleasure. So you must try this vehicle once!