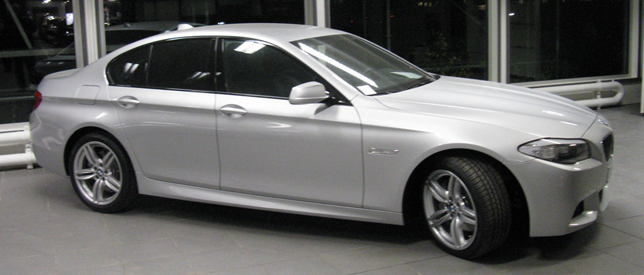 13

Feb

19
Hushed engine with all the fine qualities of a BMW
There are cars out there offering many things equalling BMW 5 series but still, it has those qualities which can distinguish it from the lot. It is not just a diesel powered car, there is much more to explain it.
The styling is like a traditional BMW but still, it impresses the ones who are after a BMW style no matter how much criticism it gets because they simply love it. It carries itself beautifully without those typical flaws a diesel has.
BMW 535d is a luxury mid-sized sedan which is known for an amazing driving experience without any struggle. People usually do not appreciate a diesel car and this is our problem that we are afraid of trying.
It is a luxury car for sure due to its ways of driving and the interior shows that high-class standard needed to distinguish it from the normal ones. BMW 535d engines give its rider and the controller a treat to enjoy during the drive.
Once you are in it those microscopic problems vanish just like that. If you are looking for reconditioned BMW 535d engines for sale then they are available in the market especially in the UK easily.
Engine capacity
The magical thing is that the engine does not show that much capability through its bhp figure but when you look at the torque it surely amazes you. The engine installed under the bonnet is a 3.0-litre inline six-turbo.
With 255 hp and the quick 413 pounds-feet of torque, the speed becomes super for a mid-range. The torque mentioned here does not require a higher rev. It starts its miracle at 1500-3000 rpm and reaches the peak at 4000 rpm.
The time it takes to reach 0-60 mph in 5.6-5.8 seconds. Imagine then how much acceleration is under your feet and what driving pleasure you can get from such a fast engine. Also how much power will be generated by other 5 series cars above this, swish swash……where does it go exactly?
The economy is the greatest virtue of this engine which compels the buyer owning an economical luxury.
Handling maintains the 5 series standard
The looks inside out are not only leading to a lavish style, but the road presence is also according to the perception. The power is distributed to the rear wheels but there is an option of the xDrive all-wheel-drive system if you want it.
Eight-speed BMW automatic gearbox aids the experience and makes your drive smooth without any hindrance. The diesel engine is noisy as well as odour free, as this was the case with old gallons of diesel. As always there are modes to witch to vary firmness and other factors.
There are an excellent steering feel and firmness with good accuracy in especially the sports mode. The brakes apply themselves quickly without delay giving a feel of a sports car as a whole. Cornering is flawless making it possible to make those sharp turns instantly on fast speeds.
Cabin traits
As any other BMW, the cabin is designed to depict the brand. The materials sued inside are of high quality which is not accepted by all by the way. Anyhow the seats are ultra-comfortable, they are big and have lots of adjustment option.
Anything you touch in a BMW it is expensive and apart from the standard kit, the options present the same case. There is good visibility in every direction with plenty of light coming in for the rear passengers especially due to large windows.
But due to lower seats, the legroom suffers for some. It has the longest wheelbase among the competitors but still, legroom tightens.