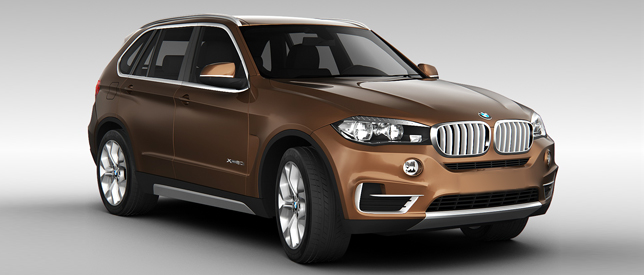 31

Mar

14
• Flagship X7 on the cards
• Will have V8 and V12 engines
• Will be launched in 2018
• Will cost around £65000

Seriously who said BMW has enough of these X off-roaders in their line up? I think we all did, but the executives at BMW seem to think otherwise as they confirmed plans to launch an X7 towards the end of the decade, around 2018. As if X5 (pictured above) wasn't a large enough SUV that BMW need a new seven-seat flagship model for its off-road launch.
The announcement was made at a ceremony marking 20 years of production in the USA. Norbert Reithofer, Chairman of the Board said: "With the BMW X7, we are developing another, larger X model, which we will produce at our U.S. plant for our world markets – once again underscoring our commitment to the U.S."
The X7 will be taking on cars such as the Range Rover and Mercedes GL, although rivals for an SUV larger and plusher than the BMW X5 are not that many. The X7 will be made for global markets like the US, where there's more demand for big sized cars like the Infiniti X80 and Cadillac Escalade. It could cost around £65,000.
As to which platform it will use, there is no information right now but it may use a tuned version of the one underpinning the next-generation 7-Series. BWM is introducing aluminium and carbon fibre elements in to its platforms this means we could even see an X7 that weighs about the same as the smaller X5. The X7 will be powered by V8 and V12 engnes, with a development of the eDrive plug-in hybrid system due in the X5 also likely to be offered.
As well as announcing the X7, BMW also revealed an expansion of the Spartanburg plant as part of a $1billion investment up until 2016. That'll see the workforce increase from 8,000 to 8,800, with annual production capacity up from 300,000 to 450,000 units. BMW already builds the X3, X4, X5 and X6 models in Spartanburg, South Carolina.