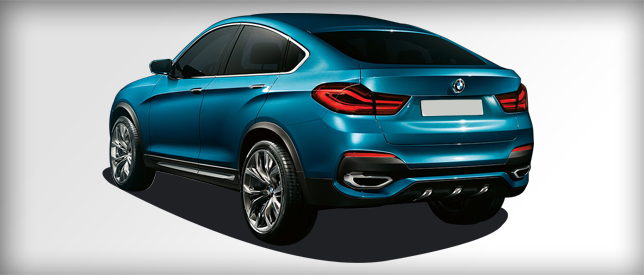 1

Jan

14
These engines will be the same but with increased power and torque raising it to 547bhp and 502lb ft
News out from sources at BMW says that BMW is going to launch three new SUV's this year. BMW' M division is also going to get in the act by launching two new models. The first launch is going to be of the production ready X4 at the New York Motor Show in April. X4 is a more sporting crossover model and is to the X3 what the X6 is to the X5. X4 also showed up as a concept car in early 2013.
BMW will also launch the facelifted X3 by giving it a new front end just like the X4. A range of four-cylinder and six-pot petrol and diesel engines will be offered, as will an eight-speed automatic gearbox and a variable sports steering system. These two models will be followed shortly by a launch of X6 which is totally a new car. It will get to UK shores in November after a debut at the Moscow motor show in August.
BMW launched the first gen of its X6 in 2008 and 200,000 have been sold so far. The new model is going to build up on the success of X6 by introducing more muscular, sporty and athletic design. BMW M division is also getting into the game by launching an X6 M as well as X5 M. It will have sharper and more aggressive styling. Both these M models will use twin turbo 4.4 litre V8 engine from the first-gen X5 M and X6. These BMW engines will be the same but with increased power and torque raising it to 547bhp and 502lb ft. Its CO2 emissions and economy will increase too. BMW wants to make sure that it gives its customers something really thrilling to drive in the new year.