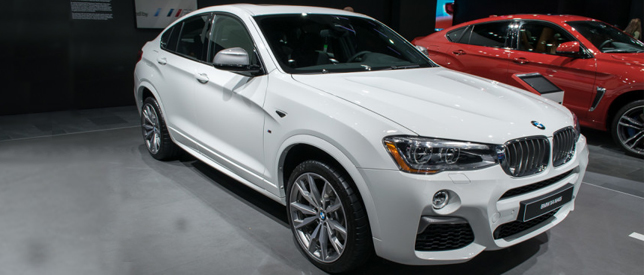 18

Jan

16
BMW introduces high performance M Series in the X4 M40i form, will go on sale in UK, this spring
German automaker introduces the new M-Performance version of its performance SUV. This time it has been introduced in the X series and the model which has been transformed into the M version is X4 M40i.
Newly developed SUV has a newly developed six cylinder turbocharged engine capable of producing 355bhp and 343lb-ft of torque.
Is coming to the UK?
BMW has launched a new M-Performance in the BMW X-series and it will be called X4 M40i in the UK.
It has been shown to the public at Detroit Motor Show last day and yes, it will go on sale in the UK during this spring.
Highly Placed Model
The BMW X4 M40i sits at the top of the range of BMW X4 line-up because of the M-performance dynamics.
BMW has plans to set the X4 M40i a benchmark in the segment for outstanding dynamics. Prices for this model have been confirmed yet for the UK but it is expected that the x4m40i will be pitched above the existing X4 xDrive35d M-sport.
How powerful the new is X4 M40i?
All new BMW M-performance has a newly developed six cylinder BMW X4 engines, exclusively equipped with twin turbocharger. It is an inline 3.0-litre petrol engine capable of generating 355bhp of power from 5800 to 6000 rpm.
However, it has a peak torque delivery of 343 lb-ft. the BMW X4 M40i is a capable machine and it can sprint from zero to 62 miles per hour in just 4.9 seconds and can achieve an electronically restricted top speed of 155 miles per hour.
If you compare this new unit with the previous 3.0-litre engine, its predecessor was bit slowly in both top speed and 0 to 62 miles per second.