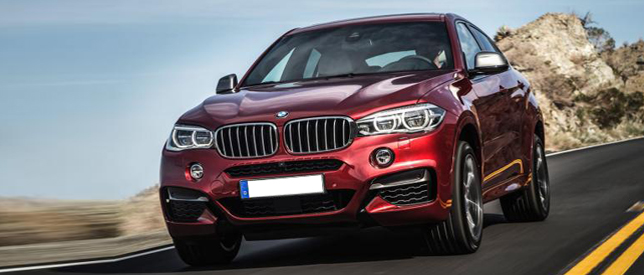 6

Jun

14
BMW X6 Coming in December 2014
When BMW X6 was unveiled in 2008, the BMW X6 didn't really get the best of receptions but still went on to sell around 250,000 units around the world. The German automaker is looking to add that success with this latest model and it is based on the all-new X5.
What this means is the same 2933mm wheelbase as BMW's large SUV but it is 60mm lower and 23mm longer. These new dimensions differentiate it from the X4 and X5. BMW is now offering buyers a Design Pure Extravagance option for the interior, the exterior or both. This includes stainless steel underbody guards, bespoke 20-inch alloys and aluminium surrounds for the window line and mirror caps. Meanwhile, the interior pack includes extended leather and a key featuring chrome buttons. There's 580 litres of space with seats up and with them all down there's 1525 litres, which is 75 litres more than its predecessor X5.
At its launch the X6 will have an option of two diesel engines, the 30d and M50d. There is also the 50i and a 35i and 40d arrive in spring 2015. The 30d is anticipated to be the best seller, churning out 47.1mpg and 6.7 seconds to get from 0-62mph. These are improvements of 19 percent and 0.8 seconds on its predecessor.
The quickest model is 50i and sprints from 0-62mph in 4.8 seconds. There will be a new X6 M with 4.4 litre V8 churning out 550bhp. If you want to get your hands on a X6 sooner than you can go for M50d. It's pretty quick as well as it takes 5.2 seconds to go from 0-62mph. The latest technology fitted to the latest X5 will also be fitted to the new X6. The gadgetry also includes system to brake and accelerate in traffic, an active lane keep assist and a head up display.
Are you interested in a new BMW SUV?