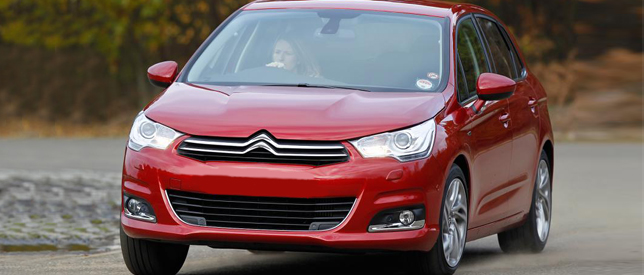 2

Jan

17
An appealing family car at right price for you, Citroen C4 with upgraded trims
A very fine looking family car that has many appealing features to persuade you to own it. Being one of the few top hatchbacks this car for family has been continuously updating to retain this status. To take on the leading vehicle of this very competitive class Citroen C4 needs to keep on charging towards perfection in all areas including a fuel efficient powerful engine. Last year a new engine was launched to seek more attention as did the rivals. Either with little tweaks or a major change the company will have to keep pace with increasing expectations of customers.
The other major advantage could be affordability and this car has been priced very wisely to challenge the manufacturers. Comfort of the riders is also made further enviable so they may enjoy other features of cabin more attentively. A family car should have enough space to carry five adults without any compromise so that much space is also there. So a car at low price with competitive features is there for you.
Engines are Reasonable and good range is available for those who prefer Petrol
Standard equipment's of Citroen and technology are not as of high quality as they should be to compete with close rivals. But features like electric front windows, air-conditioning and cruise control are cheap so you may not have reason to complaint when compare price. The last year engine was also in compliance to Euro-6 standards of carbon release the design was not altered to a great extent though. The Pure Tech petrol engine of 1.2 liter is available in two different output options one can produce 110hp and with some addition in upper limit the second one let you enjoy 130hp.
The more powerful machines are also there and the fuel option is same so a good variety of petrol engines is there. They offer auto stop and start with six-speed transmissions. Environmental concerns let the company to keep emissions at the same level as do the lower powered machines. The only diesel engine comes up with same option of two different powers as 1.6 Blue-HDi offers 100hp as standard and 120hp in upgrade. Economy and carbon release are of same level of less powered that is why it is good to go for more muscle. Citroen EAT6 gearbox is exclusively for most powerful cars of this series and it is automatic.
A Wholesome Upgrade To Covers Basic Requirements for a Vehicle
An array of trims is present for owners of this smart vehicle. The basic one has LED lights, air conditioner, cruise control, seat height adjustment and cruise control. All the desired features are present in it everything more than this would be desirous than need.
The automobile is not a competition to the hatchback family cars so the dealers need to offer it as alternative of some suitable class. Suspension of this series needs some more attention to make it fit to drive on different terrains without any feel of discomfort for riders.