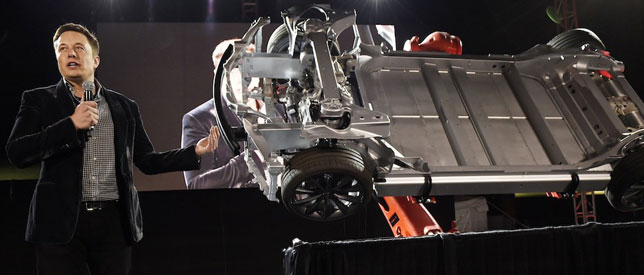 13

Oct

14
Tesla takes the wraps of 'the D'
• A Smart dual-motor Model S can be 'summoned' remotely
• It goes from 0 to 60 in just 3.2 seconds
• The saloon will have a top speed of 155 mph
After a week of guessing, Tesla Motors charismatic boss Elon Musk has taken the wraps off the firm's mysterious 'D' car. The mega launch was held at the Hawthorne Airport in Los Angeles and Mr Musk took the stage to announce that 'D' stands for 'Dual Motor'. The current Model S is a rear-wheel-drive car with one motor. The 'D' will have two motors – one powering the front wheels and the other powering the rear wheels.
The launch event was attended by more than 1,000 Tesla fans and the queues to get in the hall were very long. Mr Musk said that today's cars with petrol engines have a heavy and less efficient all-wheel-drive system whereas Tesla's system 'improves the speed, acceleration and mileage by optimising which motor is used'.
The dual motor version of the P85 performance saloon will have a top speed of 155 mph, compared with the current 130 mph. Tesla has dramatically upgraded the model's safety features. The Model S will bring itself back if it drifts from its lane and brake automatically if it's about to hit something. It will use cameras to read speed limit signs and reduce speed automatically.
The 'D' will also have 'auto pilot', but it doesn't mean that the car will be able to drive it or the driver can safely fall asleep. However, on private property, a driver could summon the car remotely. The dual motor will be a £2,480 ($4,000) option on the base and mid-range Model S, which start at £44,100 ($71,000). The base price for the P85 with all-wheel drive – which will be known as P85D – is £74,400 ($120,000). The 'D' went on sale instantly after its launch with deliveries in December. Mr Musk teased the announcement on Twitter last week, saying: 'About time to unveil the D and something else.'