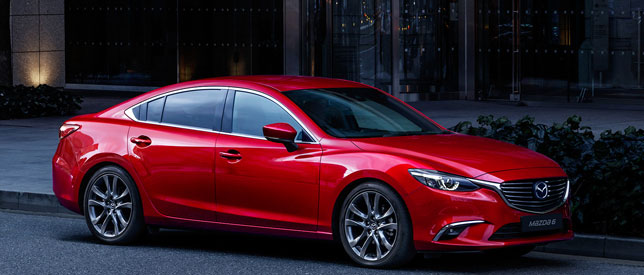 24

Apr

17
More power Injects more fun have a classy ride for your craze of driving
The 6 range of Mazda is among those family cars that are genuinely fun to drive. In comparison many of the competitors do not have that click in their drive that can make a mid-sized boring family car an exciting one to ride. This category is said to be boring as the crisp drive that is needed on road and the starting pick is not there in many of the vehicles in this class. Mazda 6 has proven this notion wrong by face lifting this class and upgrading it with the most latest technologies, a comfortable interior with excellent suspension and an elegant outlook.
What this Diesel Engines offer:
There are two diesel engines offered in this range. Both with 2.2-liter capacity and two different power output options; one is 148bhp and the other is 175bhp. Either the petrol or the diesel options, both are Mazda's in-house designs not shared with any other car maker. The diesel engines are accompanied by the SkyActive-D tag, making the offer more attractive. The SkyActive-D engines are said to generate more power and are the most popular ones. They have good efficiency and emissions due to the low compression ratio for a diesel. Mazda offers a bigger tank than 2.0-Litre diesel engine of its rival with this technology combined making it a more attractive deal in this aspect among its rivals.
Particulars of starting Level:
The regular 148bhp choice is among a decent one as it takes the car from 0-62mph in just 9.1 secs and up to a top speed of 130mph. The torque it produces is 380Nm between 1.800rpm-2,600rpm; hooked up with a six-speed manual gearbox and plenty of engine punch this one is not a bad choice at all.
The Higher Option:
Taking things a little higher is the 175bhp engine that gives 420Nm at 2,000rpm. The engine certainly produces more pull and performance and the speed it generates is noticeably higher than the regular one making from 0-62mph in just 7.9 secs hitting the top speed of 139mph.
Drive and Handling:
New Mazda 6 is a marvelous car to drive whether in its saloon form or in the Tourer trim level. In its earlier models it was criticized with it's a bit too much firm and sporty ride, but while face lifting the model this criticism was answered effectively. The sporty suspension offers a very good handling in all the versions of this model and it is due to this that the ride is smooth and the grip remains firm no matter what the road is like. Especially a new system which is introduced in this car is G-Vectoring, which gives an extra grip to the car.
When going on long drives this feature can be of help as it adjusts the torque delivery according to the steering angle making the ride more comfortable and in control especially when the road have pit holes and bumps. The users of this car actually rate this feature very high as it turns there driving experience to a whole new dimension.