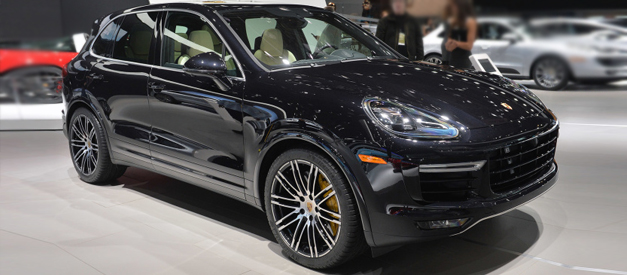 20

Jan

15
A fastest and powerful production ready SUV from Porsche has been unveiled at Detroit Auto Show
The second generation facelifted Porsche Cayenne Turbo S has been unveiled at the Detroit Auto Show 2015. It is powered by a highly modified version of a standard Cayenne Turbo twin-turbocharged 4.8 litre V8 petrol engine and offers 20bhp and 31 lb-ft more than the previous version.
This engine offers 562bhp of power from 6000rpm and 589 lb-ft of torque starting from 2400rpm to 4000rpm.  This huge amount of power is channelled through an eight speed automatic gearbox. An electronically controlled clutch is configured with multi plates to facilitate the all-wheel drive system.
The Porsche Cayenne Turbo S has an official 0-62 miles per hour time of just 4.1 seconds and a top speed of 176 miles per hour. It has improved figures by some 0.4 seconds and 2 miles per hour from the previous model.
The Cayenne SUV is a benchmark of power and performance within its own SUV line-up. It is officially claimed to be the first production SUV which covered the Nürburgring in eight minutes.
Porsche development boss Wolfgang Hatz at the Porsche Cayenne Turbo S launch revealed that the Turbo S running on the standard 21-inch wheels lapped the Nürburgring in 7 minutes and 59.74 seconds during testing.
This four wheel drive monster SUV has a carbon-ceramic brake system. It features 420mm discs up front and 370mm discs at the rear along with 10-pot callipers at the front and 4-pot callipers at the rear.
Interior of the Porsche features a new colour scheme with a new cream and black colours with a leather lined features in the interiors. The model is likely to go on sale in March with an expected price from £118,455.