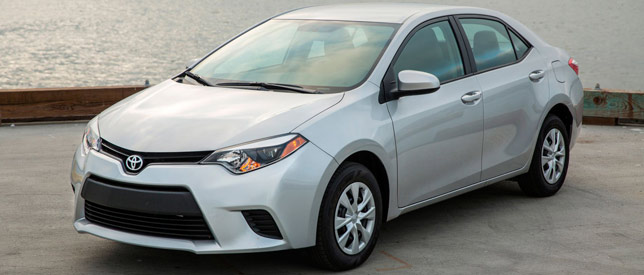 17

Nov

17
Selling over a million cars every year is certainly encouraging
Among compact cars of this year Toyota Corolla has been placed in middle and its salient features are reliability that is the result of years of efforts by the company and safety package that includes advanced features. Fuel economy is also commendable and the cabin has been rated well for comfort.
When you look at sales of units of this car you get the right idea how good it is. The new model has refreshed interior and exterior to make it stand out. Rearview camera is standard for all models and automatic transmission is also found throughout the range.
It is not the cheapest in this class but you get the best value for your money and it is quite pleasing for the buyers. Its new features are in demand of many new car buyers that is why it is selling in high numbers in different parts of the globe.
Toyota Four Cylinder Engine for New Corolla
The Four-cylinder 1.8-Litre Toyota engine is for new Corolla that has 132 hp and at times while driving you can wish for more than this. It is a case when you want to overtake on a highway otherwise you will be happy to drive it on city roads.
Speed transmissions are smooth because of continuously variable transmissions that function more like automatic. Acceleration is not that quick. Manual transmissions are also available for some of the trims. Fuel economy is good and gets even better with Eco trim. In this way, it matches to the best fuel efficient cars.
Reliable compact car and best safety
If you are looking for one of the most reliable compact and safety oriented vehicle, then it is the right choice as it has got best remarks for these qualities. Bluetooth connectivity like other cars of the class is there but lane departure warning feature is for upscale vehicles.
Infotainment area is devoid of Apple Car-play and Android Auto that you can find in its competitors. Crash avoidance system is the most advanced and it is one of the biggest appeals for the buyers of this new Corolla. Their concern for safety allows them to ignore the shortcomings. Standard engine power is quite reasonable and turbocharged satisfy the thirst for more speed quite adequately.
 Elegant and simple Interior features
Seating capacity is up to five persons and it is same for all the cars of this class to prefer four adults for longer distances. Ample legroom for the second row is not usual but Corolla provides enough headroom for taller riders. All seats are comfortable and front row needs to be more supportive as it can be.
Costly trims offer sports seats that are a bit firm but keep you in position while cornering. Cargo space of trunk is normal and meets the requirements well. Navigation system costs you extra as it is an additional feature available on demand. The touchscreen of infotainment system is simple to operate.