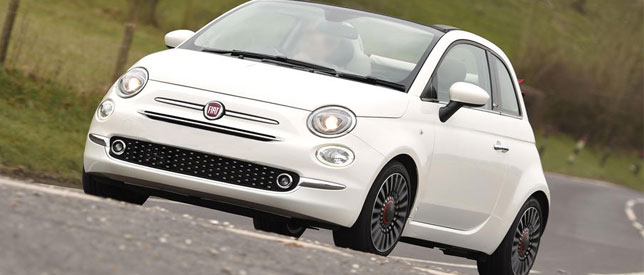 9

Aug

17
Excellent features and great practicality are its hallmarks
FIAT 500C is a very efficient small car having smart features
Retro style FIAT 500C is a smart mini car with great features in it. Its low running coast engines are the best in the market. Though it is small in size there is all features and equipment mounted in it with great perfection. It has a convertible fabric roof that makes it unique in its category. FIAT 500C is very efficient in response. Its engine range is efficient and effective as well.
Petrol Engine Range
The 0.9-litre petrol engine is impressive in performance. It is 85bhp and 107lb/ft torque TwinAir petrol engine and takes 10.6 seconds to reach from0-62m/h along with the top speed of 108m/h. it's a two-cylinder and eight-valve petrol engine with fuel average of 75m/g and Co2 emissions are just 92g/km. It is available in five-speed manual and five-speed Dualogic transmissions as standard.
The second petrol engine is a 1.2-Litre petrol unit but it is not impressive in performance. It is sluggish in performance and takes two or three seconds more than 0.9-Litre and 1.4-Litre petrol engines.
The 1.4-litre petrol engine is also available in manual and automatic gearboxes and front-wheel drive a standard. It is a regular petrol engine with four-cylinders and sixteen-valves. It is capable of 100bhp and 97lb/ft torque. It takes 10.2 seconds to reach from 0-62m/h with the top speed of 113m/h. Fuel consumption is 48m/g with 140g/km of Co2 emissions.
Diesel Engine Range
In diesel category, there are two versions of 1.3-Litre engine one is capable of 75bhp and other is of 95bhp. The second one is our choice. It is superb and equal to petrol engines in performance. It takes 10.4 seconds to get 0-62m/h mark with the top speed of 112m/h. Fuel average is 80m/g and Co2 emissions are 97g/km. It is coupled with six-speed manual gearbox and front-wheel drive as standard.
FIAT 500 C has plenty of options in engines to choose as per your requirement and desire
Good and economical petrol engines and frugal diesel engines are best for this small car. Each engine suits it best. TRIO of petrol and two diesel versions are equally good in performance.
Interior is not only good but superb and with good practical approach
FIAT 500C is small in size but equipped with all necessary features and with the good practical approach. Head room is good for the occupants. It has a good boot at back with 190-litres storage capacity.
Some very good names such as Toyota, Vauxhall, and Citroen DS are its challenger but FIAT 500C has its firm place due to its good and nice interior.
Features are good enough and of daily use
Standard features are of good material and standard. Despite small in size, it is equipped with all standard and safety kits. It is impressive in Euro NCAP crash test and has secured five-stars rating.
There is air conditioning unit, climate control, cruise control, remote locking, standard airbags, ISOFIX children seat anchor points, traction control, electric windows, parking sensors, folding rear seats. CD player sat Nav and steering control rake adjustment. Sports seats are also available with service indicator.