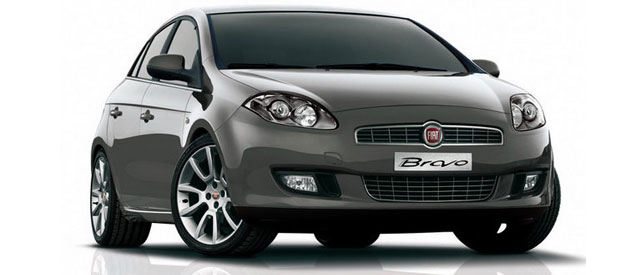 4

Oct

17
Standard features and good engine range have made it a good choice
FIAT Bravo hatchback is a stylish and practical vehicle
Hatchbacks are the major concern of auto manufacturers. This field is overcrowded with extraordinary brands, all is best in look and performance. FIAT Bravo hatchback stands different due to its stylish and unique appearance. At the front, there is a very short grille with big headlamps and fog lights at down and the tail is also impressive with round tail lamps fixed well with its body structure. It is a powerful hatchback with good engine range. Deep grooves at sideways look great. Well balanced and well-arranged hatchback is this with lots of practicalities. Peugeot 308 hatchback, SEAT Leon hatchback and Ford Focus hatchback are its major rivals and competitors.
Good diesel and petrol engines perform well
FIAT Bravo has plenty of options in diesel engines and petrol engines but 2.2-Litre MultiJet turbo diesel is the right pick from the diesel category. It is capable of 165bhp and 266lb/ft torque. It is good and powerful in response and takes 7.9 seconds to reach from 0-62m/h along with the top speed of 130m/h. Fuel consumption is very good with 55m/g along with 135g/km of Co2 emissions. This turbo unit is available with six-speed manual gearbox and front-wheel drive unit as standard.
In petrol engines, 1.4-Litre Multi Air engine is very impressive. It is capable of 140bhp and 170lb/ft torque. It takes 8.2 seconds to get from 0-62m/h and the top speed of this petrol engine is 127m/h. Its fuel consumption is very good with 50m/g and its Co2 emissions are 130g/km. It is coupled with six-speed manual gearbox and front-wheel drive unit as standard.
Both engines are reasonable in performance, especially the diesel one is the right choice in FIAT Bravo. FIAT Bravo is a very safe and reliable vehicle due to its safety kits and strong built. FIAT Bravo has gained five stars from Euro NCAP. Its practicality is also impressive. It has good space for five passengers and also has a good boot.
Exterior is awesome with nice and beautiful interior
FIAT Bravo has a nice exterior with the aerodynamic shape. The body structure is based on low gravity frame that gives some extra road grip. With little bit inclined front axle, it uses the weight of the engine in its benefit to maintaining its balance. Back bumper is higher than the front one. Interior is very simple and reasonable. All systems are very clear to read and use. Steering is at the good position, front windscreen is wide and side pillars don't make any problem in outer view. There is no blind zone in New FIAT Bravo. The roof is very high at front seat and dips down at back but give appropriate head space for the rear seat's occupants. The dashboard is well arranged and settled. Leather upholstered steering wheel and dear stick is also very fine in use. The infotainment system is up to latest standards.
Features are reasonable and good in operation
Electric steering with Dual Drive system, anti-lock braking system, air conditioning, dual zone climate control, traction control, adaptive cruise control, Bluetooth connectivity, Windows adaptability, USB supported, ISOFIX children seat anchor points, standard airbags with side curtains, parking sensors, fog lights, electric mirrors, electric windows, remote locking, sports seats and steering rake and reach adjustments it is also available in steel wheels along with alloy wheels.