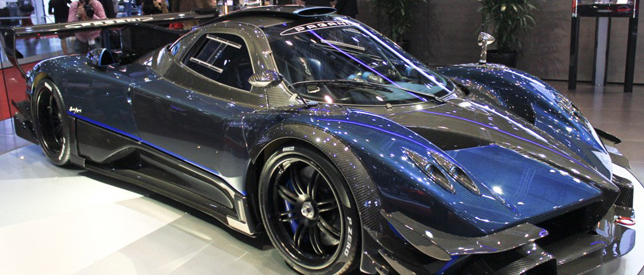 5

Mar

14
Fifth & Final Pagani Zonda Is Greeted by Huge Crowds At The Geneva Motor Show
The original Pagani Zonda was first launched back in 1999 and proved to be a huge hit with exclusive and ultra luxurious car lovers. The Zonda Revolucion has a central monocoque formed from a blend of carbon and titanium and Zonda Revolucion tips the scales at 1070kg; that's equal to that of the Zonda R that was launched in 2007.
Power comes from the AMG Mercedes V12; the 6.0-litre engine develops 789bhp and 538lb ft, an increase of 50bhp and 14lb ft compared to its predecessor. A six-speed sequential transmission, made from lightweight magnesium, drives the rear wheels and allows for gear changes in as little as 20ms.
No performance figures have been announced but expect a slight improvement on the Zonda R's 0-62mph time of 2.7sec and a top speed in excess of 217mph. Pagani has also further developed the car's traction system, allowing for twelve different settings. This, in combination with a revised ABS system, allows the driver to configure the car to suit their driving style. Aerodynamic tweaks include new front deflectors on the bonnet, a vertical stabiliser on the rear and a DRS, Drag Reduction System on the rear wing. The DRS can be activated manually, via a button on the steering wheel, or left to its own devices in an automatic mode.
Furthermore, the car's Brembo brakes now utilise a different type of carbon ceramic disc. The upgraded discs are claimed to have a lifespan that's four times longer than the previous items, as well as offering improved durability and more stopping power. Horacio Pagani, owner and chief designer of Pagani Automobili, said "We knew it would be very difficult to design and build a car that was even more extreme. But thanks to the creativity of our designers, engineers, and the whole Pagani family, we created a beautiful object and the fastest Pagani vehicle ever." The Pagani Zonda Revolucion can be bought in the UK for around £2.3m.