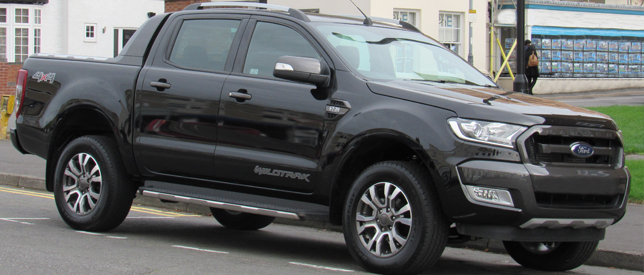 18

Nov

19
It is compelling as a commercial vehicle as well as a comfortable one to cruise
This category vehicle seldom has qualities to compel families as well to own it. But Ford Ranger has been designed to do the opposite. This one has the ability to carry loads and entertain the owner for personal use. As a workhorse, it is made to work hard with tough makeup and ability. And when it comes to the other side it has the sophistication but with load-carrying trait still intact. There are three body styles which can be chosen according to the need. The two-seat Regular Cab Ranger is particularly for carrying loads and do all the commercial activity. Moving next is the four-seat Super Cab version which is also for commercial use but with some seating capacity. The most popular among these is the five-seat Double Cab which carries your family and with it has a good load carrying area, but it certainly suffers due to more space given for the cabin. So with these three choices, Ranger makes itself compatible for all uses. There is a very attractive exterior with a whole lot of practicality and bold designing. The interior is according to body style to the point or with extra tools. The engine side is powerful to do all the work. Ford Ranger suppliers make sure to sale only the best product. To access Ford engines for sale you just have to find the right place. Reconditioned Ford Ranger engines can be an even better choice over the original ones.
One engine with astonishing performance
Ford Ranger was discontinued and was renewed for the market due to popular demand. It now comes with a 2.3-litre Eco Boost turbocharged four-cylinder engine with a horsepower of 270 and a 310 torque. Such an engine is still not present in any of the rivals. There is a 10-speed automatic transmission attached to it. Now one might think that how can this combination work to extract the most out of this engine but in reality, it works excellently well. There are a lot of gears to change so as to give powers to the heavy-duty pick up on every level of speed. Even in lower speeds, the engine is fully capable to tow heavy loads on any surface and any traffic condition. The automatic transmission not only provides a lot of power but responds quickly to acceleration change. The engine pushes the machine forward instantly as the foot is pressed down on the paddle. This engine is actually a base engine otherwise but it performs so well that one can hardly imagine it is. There is the fuel economy which is not a plus point over here though.
Ride quality at its best
The rest of the two are good to drive but the thing is that they are made for hard work. The ride is smooth and responsive with suspension and steering wheel working well side by side. The steering wheel has a good feedback every time on-road and a quick one too. There is also an amazing body control and a fast direction change due to improved driving dynamics. There may be disturbances on sharp potholes and bumps but otherwise, the cabin remains calm for the Double Cab approach. With or without full capacity load the ride remains as it should be. And due to this feature, this truck seems like an expensive SUV when moving. Another sweet thing is that you are going to have without brake gear change and it will happen without any annoying brake.
The convenience factor
The biggest one is the engine replacement available. Other factors include a comfortable interior with getting in and going out made easy for the driver with a grabbing handle on the right pillar near the door. You get towing hooks in the front also to get a space to tie in case the car broke down. The Ford Ranger tires give a good grip of the road but there is no four-wheel drive present due to a mechanical fault which did not allow the car to change to this model. The mode is altogether removed from the vehicle due to this reason. The interior is however dated getting everything which was in the predecessor and nothing much has changed.