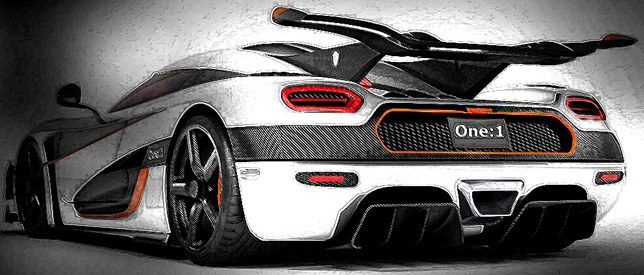 10

Feb

14
New Koenigsegg One:1 sets its sights on Bugatti Veyron
Power output of 1340hp
Top speed 279mph
Are you a One-Percenter? Your ultra exotic, limited edition hyper car is on its way. It's called the Koenigsegg One:1. Why the name; because its power output of 1340hp (1322bhp) matches its kerb weight of 1340kg. It is an insane road-going time machine that takes you places on the road in the blink of an eye. Koenigsegg is not for children. It is based on the Agera line of supercars but it is an all-new car.
It will debut next month at the 2014 Geneva Motor Show and will set new acceleration records for the 0-200 km/h (0-124 mph), 0-300 km/h (0-186 mph) and even 0-400 km/h (0-248 mph) sprints. The latter could be as quick as 20 seconds with a top speed of 279mph. This new speed means Bugati Veyron Super Sport may well look like a car from the past as its top speed is 267.8 mph. The Bugatti Veyron Super Sport and Grand Sport Vitesse, powered by a 8.0-litre, quad-turbocharged W16 engine, both develop 1184bhp
Only six units will be built and all of them have already been sold. The asking price is around $2 million. We will be bringing all the Koenigsegg One:1 news from the 2014 Geneva Motor Show starting from 4th of March.