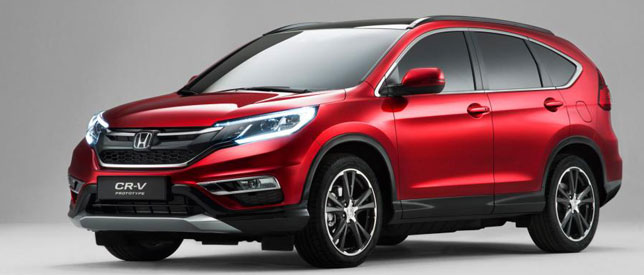 1

Oct

14
You will be amazed to see the performance and looks of this new wonderful car
The Honda CR-V has gone a major mid-life update and in the process getting cosmetic tweaks and a new diesel engine. The four-wheel variants of the fourth-generation CR-V which have been on sale since 2012, will now be available in a 1.6-litre i-DTEC four cylinder diesel engine with higher power. It utilises Honda's Earth Dreams Technology series. This next generation Honda engine variant replaces the 2.2 litre i-DTEC diesel which is being taken out of production earlier.
This new diesel engine makes 158bhp and 258lb-ft. Honda claims to have reduced CO2 emissions to 130g/km when mated with a six-speed manual transmission. It also represents an 11 percent improvement compared to the phased out unit. A new nine-speed automatic transmission is also being offered for the first time replacing the old five-speed self shifting 'box. The CO2 emissions for this combination will be less than 135g/km, 20 per cent better than its predecessor.
The two-wheel-drive CR-V, available with a six-speed manual transmission, will continue to be offered with the lower-powered version of the 1.6 litre i-DTEC diesel engine. It's the economical champion in the range, churning out 118bhp and emitting 117g/km of CO2 in its most economical mode.
The current 2.0 litre petrol engine will still be available with both two or four wheel drive and a manual or automatic five-speed transmission. There is no word on economy and performance figures yet. The most important cosmetic changes across the range are at the front of the car as it gets new headlamps, front grille, skid-plate, bumper and fog lamps. The improvements at the rear include new LED combination lamps, bumper and a refreshed tailgate design.
Honda says the version of the CR-V sold in the UK and Europe have been tailor made to suit driving conditions here and it will be built at Honda's plant in Swindon. Honda will take first orders for the new CR-V from March next year. Honda will also show its latest Type R concept at the Paris show, alongside its Reborn HR-V crossover, the new Jazz and the updated Civic range.