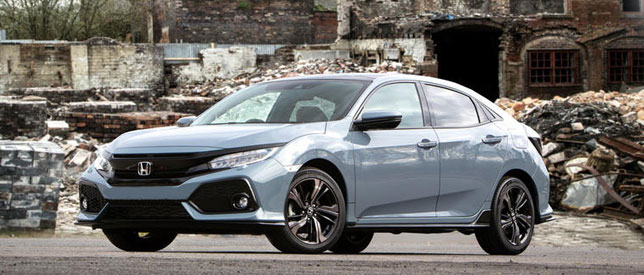 12

Aug

17
Comfortable family car with low running cost and efficient engine
The Japanese automaker introduced tenth generation Honda Civic last year. It is bigger in length and width and lower than the previous one with big changes in the outlook of the car. Comfort level has also been advanced with the new suspension to outdo the rivals in this area. The price of entry level model is reasonable and seven trim levels can make it unique for the buyer. At first, two petrol engines with three and four cylinders have been launched. The diesel machine of 1.6-Litre will be available later.
The petrol engine 1.0-Litre with the output of 127bhp is a tremendous choice as acceleration is good and it manages to get to 60 mph speed just above ten seconds. The weight of the car makes it harder to be as nimble as the rivals are even with lesser power. The other petrol power producer of 1.5-Liter engine is exceptionally faster but fuel efficiency is not ideal that allows experts to favor the base level and forbid the buyers to spend more.
Seven trim levels are available to the buyers
With the inclusion of most advanced suspension of the car maker, it has become quite comfortable for riding as far as in comparison with rest of vehicles of the same class. Out of seven, four trim levels offer efficient resistance against road imperfections and track roughness. With this excellence, there is no need to go for larger alloys and pay extra.
Some trim levels provide you an option to choose between soft or hard tone with one push. With harder mode, the riders would feel every pothole as the car passes it. But there is a choice for the buyers to take a sportier ride. Furthermore, if wrong fuel is put in your Honda Civic, like petrol in diesel, it can also be drained easily.
Driving is fun on city roads
Being a family car, handling is of high standards though the grip is not as good as Volkswagen Golf, it performs well at turn and twists. Within city area, driving Honda Civic is fun even with the larger body than competitors. The issue of refinement is also there as the entry level 1.0-Litre starts complaining about a jarring sound when the accelerator is pushed harder.
Vibration is also felt on the pedals that need to be disappeared in coming models. Six-speed manual gearbox functions very smoothly and enhances the driving experience. Not the only refinement of the engine requires to be improved, but cabin also needs to be devoid of noise while moving.
Safety and interior is also appealing
Interior of the car is well designed and layout is also marvelous. Seat for the driver is low but gear lever is well within reach, so you do not need to grab it with extra stretch.
Overall seats are very cozy as they support thighs and from sides. Seat adjustment is possible and steering can also be readjusted according to posture or height. Safety of persons inside cabin has been focused so you will find enough safety measures in all models of this car. Front collision, auto brakes, and lane keeping assistance are some of the safety features present in it.