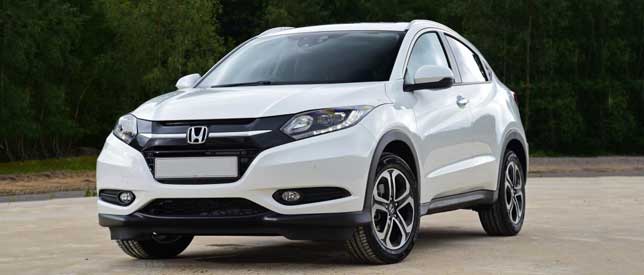 8

Sep

17
With good practical approach, it is a reliable vehicle
Honda HR-V is a well compact SUV of the day with good practicality and performance
Honda is a name of trust and well renowned all over the world for its vehicles. Its products are considered to be the best in the world. It has created and designed some great vehicles of the automobile industry. It has luxurious, fast and furious and saloon vehicles under its shelter. In SUVs, it has the good variety. Latest Honda HR-V is one of them with the compact design. It is well built and rugged in design. It is good looking exterior that is quite unique with just three outer doors.
It is a good and practical compact SUV with AWD assembly and powerful engines. It is comfortable and has well off and on road ability as well. There are some rivals of this SUV such as Nissan Qashqai, Citroen C4 Cactus, and Renault Kadjar. It is its worth that it is compared with world class vehicles.
With single petrol and single diesel, it is quite satisfied with its performance
The 1.6-Litre petrol engine is available with 128bhp and 114lb/ft torque. It is good in overall performance with 10.4 seconds to reach from 0-62m/h along with the top speed of 120m/h.  It is fitted with the six-speed manual and automatic transmissions as standard with front-wheel drive and AWD units as standard. Its fuel average is 50m/g along with 134g/km of Co2 emissions.
The 1.6-litre diesel engine is capable of 118bhp and 221lb/ft torque. It takes 10.2 seconds to reach from 0-62m/h and the top speed of this engine is 120m/h. The real difference is in fuel consumption. It offers 70m/g along with just 108g/km of Co2 emissions. It is fitted with manual and automatic gearboxes along with front-wheel drive and AWD unit as standard.
Interior is great in a compact manner but with good practical approach
Latest Honda HR-V is available with nice exterior and reasonable interior. It is Honda's hall mark that it does not spend too much on the interior of its vehicles to make it glorious, luxurious and dreamy. It is tough in nature with good and reasonable features with reasonable practicality and of standards. Interior of HR-V is fully equipped with features and stuff that requires in an SUV.
Its practical interior offers great space inside at front and at rear seats, there is plenty of leg and head room with good and reasonable cubbies at the front and at the rear. The dashboard is simple and good in built. Seating arrangement is very good. High driving position means good control and road grip on every type of surface. The panoramic sunroof is very special one. Its dipping roof gives a glorious look and appealing as well.
Features offer great comfort with good practical approach
The Latest Honda HR-V is fully loaded with features and equipment. Its features are very handy and useful in operation.
Its features are CD player, DAB radio, Bluetooth connectivity, dual zone climate control, adaptive cruise control, traction control, Anti-Locking Braking system, remote locking, central locking, hated mirrors, heated seats, electric windows, electric sunroof, lane departure indicator, service indicator, parking sensors, rear view camera, forward collision warning system, cross traffic monitoring system, ISOFIX children seat anchor points, sat nav and standard safety bags with side curtains. Honda has spent a lot on its safety and reliability, so it is a very safe and durable vehicle or SUV available on road.