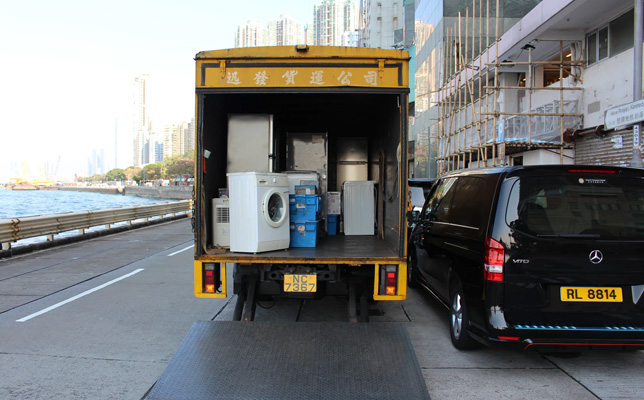 22

Mar

19
A vital part of every successful house move is the way to organise the moving van. If you don't arrange possessions as a professional, you risk damaging everything during the drive to the new location.
If you've arrived at the point in your life in which you need to move house then you need help. You found a nice, new living place, hired a moving van, called your friends to help you out, and, of course – neatly packed all of your possessions. Or maybe you're a professional who is about to get in business and you're looking for advice, it may look like you are practically done with the whole preparation thing, but not exactly.
In this article, Replacement Engines is going to tell you how to sort your items in a removals van properly and most importantly – safely.  
Tips on how to organise a moving van
Before we get to the actual tips on how to load a removals vehicle, note that:
First of all, you need to be comfortable. Put on some sturdy and most importantly, closed shoes. Your feet have to be well-protected –  the sensation of a sofa landing on your unsuspecting foot is never a pleasant one. Make sure to dress in a shirt, made from a breathable material, because loading a moving van is definitely a sweaty task.
We advise you to rent a moving van that has a loading ramp. It will make the whole loading and unloading process a lot easier and faster.

A good idea is to get some blankets to cover your furniture with. This step is
highly advisable because it will give your items a protective layer against potential hits during the loading procedure and relocation.
When organising your van, make sure that you get some furniture dollies and security ropes. Both items are extremely important for the safe loading and secure transportation process.

Get some friends to help you out. It's nearly impossible to pack a whole moving van by yourself, especially if there's heavy furniture involved. Safety should always come first on your priority list.
Now that we've got the boring, but still important part out of the way, let's get to the actual moving tips:  
Your moving van loading battle plan
To make your van arranging experience even easier, we've asked the man and van experts at Fantastic Removals (UK) for this step-by-step guide that explains everything you need to do in full detail:  
Check the loading ramp
Disengage the loading ramp. Check if it's dry and clear out any sort of dust or dirt from it. Now, step on the ramp and do a little catwalk. You need to make sure that there isn't a single obstacle that can turn your loading process into a complete nightmare.
Start with the moving boxes
Here is where one very important question arises:
What should you load first?
Always start with the moving boxes.

If you have ones that are on the heavier side, don't try to impress anyone by trying to lift them on your own.

Use a dolly or get a friend to help you out – you are not Superman.
Stack the containers correctly
Place all boxes at the end of the truck. Stack them vertically and don't forget about the Golden Rule: Arrange the light containers on top of the heavy ones. If you have packed fragile items, place dose right on the very top of the stack.
Load the furniture
Now that you are done with the boxes, the next thing you should load is your heavier furniture.
This includes wardrobe elements, desks, chairs, sofas, couches, cupboards… you get the point. Make sure to bubble wrap everything and to cover it with moving blankets. You don't want your antique coffee table to get chipped along the way, do you now?
When loading your furniture pieces, always use a dolly.
There should be one person pulling it and two other pushing it from behind. Take your time with this and coordinate every step with the other two people in order to avoid injuries.
Don't store the furniture right next to the moving boxes.
There shouldn't be any direct contact between them during the move. It's a good idea to fill the gap between boxes and furniture with more blankets, a mattress or another type of soft material (an old piece of foam) for extra protection. Also, if you spot any naked surfaces, don't leave them uncovered, either.
Secure everything with a rope
Remember the rope we talked about earlier? It's time to pull it out. Secure each individual piece of furniture to the side of the cargo can. Don't you even think about skipping this step! When the actual transportation process begins, there shouldn't be a single item moving inside the truck.
Wheel the heaviest items
Tired? Don't be, because we are on the final lap. The only items left to load are the REALLY heavy items, such as your refrigerator, dryer, stove, washing machine, etc. Again, make sure to use a dolly and get help from friends to push the appliances inside the van. Like with the heavy furniture, wrap every single object in a moving blanket and  secure it with a rope, so it doesn't move during the drive.
Disengage the loading ramp
Congratulations, you've successfully organised the removals van all by yourself. Now, just disengage the loading ramp and close the back door of the truck.
Other useful tips
Place your essentials at a spot in your truck that is easily accessible;

Encase your mattresses in special bags to protect them;

Roll up the rugs and cover them in a plastic wrap to secure more space in the van;

Drain appliances that use water to work ahead of time and tape the power cords to their sides;

Fill all empty spaces in the van with old clothes and rugs to make everything even safer during the move;

Put your kitchen appliances inside their original boxes before storing them in the moving vehicle;

Lift heavy items with your knees, so you don't get your back strained and never place them above the level of your shoulder.
Loading a removals truck without the help of a professional is quite hard, yet not impossible. It's extremely important to think of your safety first, especially when handling heavy pieces of furniture. The same way parents and grandparents make homes grandchild safe, people moving should have their personal belongings safe and secure. After all, a damaged sofa can always be replaced, while your health is priceless.
We hope our nifty guide has helped you figure out how to organise your moving van like a pro and, of course – Happy moving!