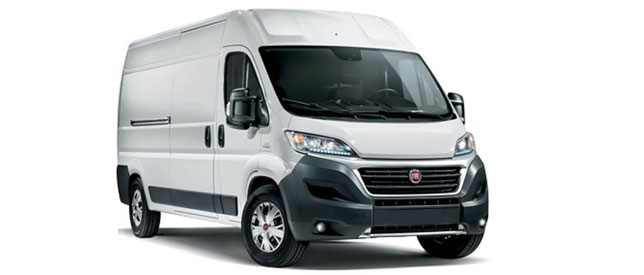 13

Jan

17
The latest Fiat Ducato has a stylish and muscular front with plenty of room in the ordinary built cabin, lots of tech with the addition of more frugal Euro 6 engines
The best among all panel vans
The Fiat Ducato is a Light Commercial Vehicle (LCV) introduced in 1981, by a joint venture of Fiat and PSA Peugeot Citroen. At its beginning it was sold as the Citroen C25, Peugeot J5, Alfa Romeo AR6 and Talbot Express all over the world.
6TH Generation Ducato
The Ducato is now in its sixth generation, it has forged a solid track record. It is reached up 2.6 million sales since it was first launched in 1981, and continues to make big numbers not only in Europe but also in the 80 international regions in it is on sale. The new models are in good demand with thanks to the addition of Euro 6 engines.
The Fiat Ducato has the best diesel engines under its bonnet
The new Ducato is equipped with Euro 6 Multi Jet ll common-rail diesel engines. The Fiat has established itself as a centre of excellence for diesel engine technology and the Euro 6 Multi Jet ll engines found under the bonnets of the Ducato reinforce that reputation.
The Ducato has used 2.3-litre diesel engines with three different outputs of 130bhp, 150bhp and 177bhp. The 150bhp version is equipped with EcoJet trim, with start and stop, a small alternator, electro hydraulic power steering and an Eco function to reduce fuel consumption.
Ducato TDI Engine
There is an 180bhp 3.0-litre turbocharged diesel for those who need speed and some extra oomph for regularly hauling very heavy loads. This version is also offered with six-speed manual gearbox as standard or with the option of a Comfort-Matic semi-automatic six-speed gear box.
The mid-level 2.3-litre turbocharged diesel unit is recognized as an all-rounder in most of the circumstances. It is available with six-speed manual gearbox and makes the Ducato versatile for both, town or motorway drive. The 2.3-litre turbo diesel unit is the back bone of diesel engines range of the Ducato because of its overall performance and efficient fuel consumption rate.
Diesel engines maintain good fuel consumption with low emission of Co2
There is a long queue of diesel powertrain for the Fiat Ducato. Different versions are capable for the best fuel average with very low emissions of Co2. The 2.3 litre MultiJet diesel engine 130 with manual gearbox gives the most efficient performance with 50m/g and low emission of Co2 at the rate of 150g/km. No other engine is even near to this performance except 2.3 litre MultiJet 150 Euro 5 with 40m/g and the discharge of 186g/km CO2.
Cargo capacity of the Ducato is more than impressive  
The Fiat Ducato is taken as a giant in panel van class due to its eight different load volumes range from eight cubic meters to 17 cubic meters. Payloads now vary between 800 and 2100 and all Ducatos get a full height metal bulkhead as standard. There are four lengths available, three wheelbase and three heights.
Space between the rear wheel arches is an excellent 1.42m. There is also a conversion range of Ducato models including single and double chassis cabs, flatbeds and motor homes.