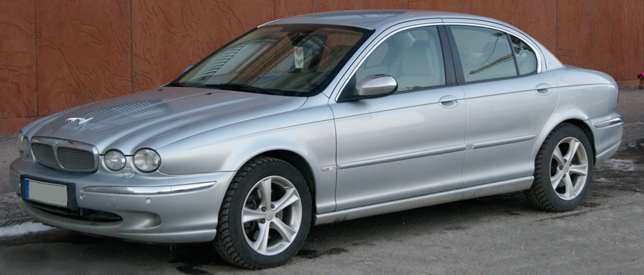 30

Jul

21
Kind of finish its cabin has does not satisfy decent buyers so the cabin is
Jaguar X Type is a nice car for cabin comfort and refinement. At least the car has something to brag and comfort for some car buyers is a top priority. Refinement is also part of comfort and this car has a good level of refinement. Jaguar has stopped producing this car so only in a used condition available in the market. Reconditioned Jaguar X Type engines are also available so you can install them in your old cars.
Handling is important from a driving experience point of view and this car from a British company has decent handling. Jaguar cars look big and people expect generous space inside but for X Type it is not true. Rear seats do not offer ample space so adults feel cramped.
Exterior has typical Jaguar styling so you get a distinctive look but not modern. The bumper has lines and headlamps are round so the longish Jaguar car inspiring in its way. For Jaguar it is important to attract buyers interested in premium saloons of BMW and Audi. It has always been the attempt of the British car producer but hardly impress in this regard.
Otherwise, the car has a strong case in its class as some of its features are quite impressive. Due to the use of some cheap stuff for interior and limited engine choices make it less popular than vehicles of aforesaid two premium German car producers. Exterior styling is also very important. Though it has its kind of exterior design neither modern nor very eye-catching for buyers.
With the Diesel engine, you easily achieve a higher average
For premium luxury cars it is important to offer a good all-around package. This car lacks a great deal in some areas so people do not find it as an alternative to German cars of this class. The absence of a diesel unit was a big concern and in 2003 Jaguar X Type came with the diesel engine.
Later diesel lower units faced tough times on their carbon emission figures but still, people want them for their ability to strike balance in performance and efficiency. With a Diesel engine, you easily achieve a higher average. Whereas petrol units are not frugal. Diesel engines have developed over time and now they are compliant with set standards.
Carbon emission is a big concern for all of us so car manufacturers now produce few diesel engine cars. Over time this car has managed to improve in the styling of the exterior and gaining an exquisite feel of the interior. These changes kept the car appealing for buyers and people appreciate the efforts of Jaguar for X Type.
Diesel 2.0-litre replacement engines for Jaguar X Type are a better choice for their low running cost. Whereas 3.0-litre petrol unit gives you the best punch in driving. Buyers responded in terms of purchase this vehicle more in numbers. The addition of different engines in the line-up is a big step forward so the Jaguar X Type remained a good car if not an excellent choice.
With upgrades and the inclusion of different features, the Jaguar X Type kept buyers excited about the car but the class of German saloons could not achieve by the vehicle. Some cars from Jaguar has done even better than X Type and these are quite close to the class of luxury car produce by German manufacturers. Sometimes buyers need a change and it is offered by Jaguar.
This X Type of vehicle performed well
Practicality is very important for buyers of family cars and buyers want good space and value for money. Safety features and scores in the crash test are also very important for buyers. It is part of the practicality of a vehicle. This X Type of vehicle performed well with its safety features.
Dynamic stability control is important and very useful assistance for drivers and you also get six airbags. These airbags come to save you in case of collusion so these are very useful for the protection of passengers. Bluetooth was made available in 2005 so the inclusion of modern tech features was a priority of the manufacturer. It made use of mobile phones possible while driving.
Bluetooth connectivity is a blessing for occupants of the cabin. Boot space is good so you get as much as 452 litres of room for your bags and suitcases. Family cars need a good room at the rearmost for carrying luggage and any car with a generous boot area is considered a good choice. Jaguar X Type has cramped rear seats so adults feel awkward on a long drive.
Other standard features include
The boot area of the car is as spacious as any premium class saloon so Jaguar has something to brag about. Storage areas inside the cabin were not spacious and little in number so designers did not work smartly for the convenience of passengers.
Several standard features offered by Jaguar for all models include ABS, alloy wheels, drive airbags, electric front windows and fog lights. Other standard features include heated mirrors, passenger airbags, side airbags and spare wheel. These are much for buyers though some of them have deliberately missed. For drivers, traction control is really important because on slippery tracks it gives you the needed grip. The list of optional features is long and you can choose them in bunches by selecting time packages. These packages will increase the price of the vehicle for sure. For buyers, it is necessary to keep the price of the car low so they include features smartly.