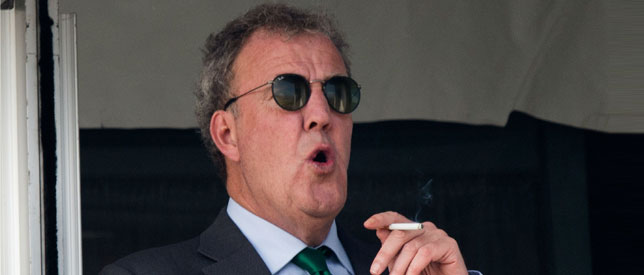 3

Oct

14
Jeremy Clarkson offends Argentina with Falklands war numberplate stunt
Jeremy Clarkson has landed himself in hot waters again and this time Argentinians are at the receiving end. Clarkson was facing the anger of Argentinians on Thursday by driving through the country in a Porsche with the number plateH982FKL which is a possible reference to the 1982 Falklands war.
The stunt was filmed for the latest series of Top Gear and is the latest in a series of offensive remarks or gestures by the BBC presenter. In July, he was found to have breached Ofcom guidelines by referring to an Asian man as a "slope" while filming Top Gear in Burma.Top Gear in Burma.
Clarkson was enforced to apologise in May after he appeared to use the N-word as he sang a tune for the programme. It was reported that BBC warned Clarkson not to offend Argentinians and starts a diplomatic row while filming Top Gear in Argentina.
His provoking action went unnoticed on the first part of his trip from the ski resort of Bariloche to the southern port of Ushuaia. He was noticed by local newspapers at the end of his 1,350 mile journey. He was accompanied by fellow Top Gear presenters James May and Richard Hammond driving a Lotus and Ford Mustang.
The controversial car was "hidden" in a shed in a ski resort called Cerro Castor near Ushuaia, the southernmost city in the world.Clarin, the leading Argentinian national newspaper said the war "highly sensitive" for Argentinians and that Clarkson "could have problems".
When BBC was contacted to comment on the incident, they denied the number plate had been intentionally chosen. Andy Wilman, BBC executive producer, said: "Top Gear production purchased three cars for a forthcoming programme; to suggest that this car was either chosen for its number plate, or that an alternative number plate was substituted for the original is completely untrue."
DVLA records show that the license plate is currently registered with a grey Porsche with a valid tax certificate and Porsche itself was first registered in 1991 which was the last year in which "H" licence plates were issued. The Falkland Islands were taken for a brief time by Argentina during its 1982 invasion which was followed by a 74-day war with Britain. The war claimed the lives of 649 Argentinians and 255 Britons.The filmed scenes are due to be shown in March next year.