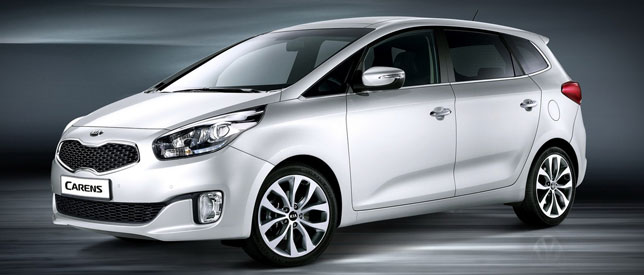 1

Jul

17
Its practical approach has made it a good choice
KIA Carens is a nice choice in MPVs
KIA is a name of worth in automobile industry. Its products are efficient, cheap, and reliable and also of great standards. KIA Carens are one of them. Latest KIA Carens are packed with plenty of useful kits of international standards. With a lot of improvements and refinements in the previous model, now we have the best form of Carens. Its powerful diesel TRIO and the efficient single petrol engine is enough to support it. It is a well-balanced and well-built MPV that adjust seven people easily.
KIA Carens has powerful diesel Trio along with one petrol engine
Petrol Engine Range
The petrol engine is a 1.6-Litre GDi unit with 133bhp and 122lb/ft torque. It is quick in performance and takes 10.9 seconds to get from 0-62m/h along with the top speed of 115m/h. Fuel consumption is also good and effective with 46m/g and Co2 emissions are 143g/km. It is fitted with six-speed manual gearbox and front-wheel drive as standard.
1st Version
KIA Carens is a practical seven-seat MPV with efficient power train in which there are three diesel engines and a single petrol engine. Its diesel engine starts with 1.7-Litre CRDi unit that is capable of 114bhp and 192lb/ft torque. For a seven-seater vehicle, it does well. It takes 12.7 seconds to reach from 0-62m/h along with the top speed of 110m/h. Fuel consumption of this diesel engine is appreciable with 67m/g along with just 109g/km of Co2 emissions. This engine is available with six-speed and front-wheel drive as standard.
2nd Version
The second version of this 1.7-Litre diesel engine is capable of 134bhp and 236lb/ft torque. This is more powerful than the 114bhp version. It takes 11.6 seconds to reach from 0-62m/h along with the top speed of 116m/h. it is equipped with six-speed automatic gearbox so its fuel average is not as efficient as we have in manual gearbox assemblies. It gives 46m/g of fuel average with 159g/km of Co2 emissions.
The third and last version is capable of 139bhp and 251lb/ft torque. Its speed output is same as of the 134bhp version but it is equipped with seven-speed DCT automatic gearbox assembly, so its fuel average is quite good, it offers 57m/g of fuel average along with 127g/km of Co2 emissions.
KIA Carens is a practical, affordable, safe and comfortable MPV of the day
KIA is a South Korean brand with a lot of good and reasonable qualities in it, force you to get it for your family. It is spacious and wide from inside. Its interior is quite healthy for seven occupants with good leg and headroom for all passengers. Its practicality is also very good if we compare it with other MPVs of the market.
Interior material is of international standards. Bumper to the bumper exterior is stylish and flawless. All standard features that require getting five stars rating from EURO NCAP are in KIA Carens. It is a safe car with long reliability and long warranty. It is cheaper to buy than other standard brands of its class. Its body style and structure is also impressive in its built and durability.