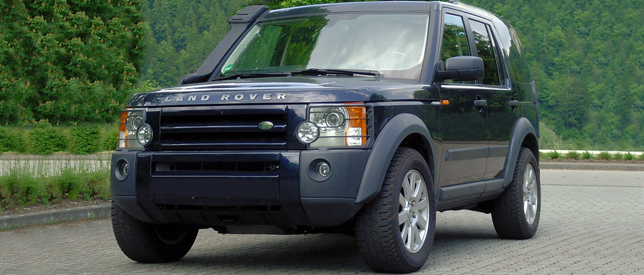 20

Oct

21
The vehicle is considered one of the best 4×4 of its time and on UK roads
Big Land Rover Discovery 3 offers an unbeatable balance between modern-day cabin refinement and luxury and off-road capabilities. Land Rover has introduced features, which buyers wish to have and Discovery 3 has not lost its originality. Land Rover Discovery 3 had been something more than usual robust SUV, even in 2004.
Sophisticated air suspension and modern features made that lavish big car. Engines for the SUV are strong and fuel economy not very good so both buying and running a Discovery 3 is not affordable for most. It behaves intelligently according to the type of track and while cruising on the motorway it is as plush as any upscale car.
UK buyers of Discovery 3 can choose from a 2.7-litre unit and a 4.4-litre unit. Both these options are strong performers so you will have more than enough power to pull on difficult tracks. Electric traction system changes the behaviour of the vehicle so you get the best possible ride quality inside.
Neither of the two power units returns good fuel economy. Reconditioned Land Rover Discovery 3 engines for sale could enhance the life of the old vehicle. The vehicle is considered one of the best 4×4 of its time and on UK roads you see many of them. The latest MK3 is the most refined and you do not miss desired features of the latest cars.
Different drive modes make it further easier to shift from one to another setting. Electric features may start malfunctioning due to wiring problems. It is against the repute of Land Rover vehicles so hopefully, coming vehicles may not have those issues.
Timing belts are one of such parts
Gearbox, handbrake and suspension are some of the problematic areas of the Discovery 3 in its early years. When you choose a used car you need to be aware of facts like service history to gauge actual condition. Buyers are well aware that big cars are not cheap but their high fuel bill could be a bigger hurdle.
A service schedule of 15000 miles should be followed to keep it in the desired shape. Engine performance also remains up to mark with regular maintenance and inspection. The life of some parts is limited so you have to replace them in time, otherwise, performance suffers. 2.7-litre replacement engines for Land Rover Discovery 3 are capable to haul this big vehicle without any real effort.
Timing belts are one of such parts so everything must be taken care of. With three rows of seats, this vehicle offer ride to seven people and its body design accommodate them well. Generous space and big seats make your travelling relaxed. If you want a capable vehicle for tough tracks and a refined motorway cruiser then Discovery 3 is the right choice, even in used condition.
In comparison to Range Rover, it is cheaper and very much capable of different tasks. It is practical and can tow big weight. It received many laurels too for being the best in class. Inside you may not find it as luxurious as some of the siblings offer wood and leather.
The interior is practical and reasonably good so you will be happy even without luxurious materials like leather and wood. Over the years Land Rover improved the vehicle so the vehicle we rated highly was not the first one with the badge of Land Rover Discovery.
This is why people buying it
Twin sunroofs keep the cabin lighted and the rear window let passengers view outside. Most important for buyers is an original character of Discovery and every model kept that intact. In every new model, buyers got an enhanced upscale feel and improvement in tech features.
Handling became easier with the use of technology and the chassis has become sharper. On turns, body roll should be minimum and steering also needs to work precisely. Buyers of this vehicle must be aware of the capabilities so that they may benefit them fully.
It goes anywhere vehicle so you can take it to gravel, mud, grass and asphalt. Only city travelling and motorway cruising can be enjoyed in so many other SUVs but this seven-seat SUV is purely for adventurous drive experience. This is why people buying it should make most of it otherwise spending a huge amount does not make sense.
Height-adjustable air suspension lets you enter rather easily and when you move on the highway you can keep it lower. Similarly, you can increase the height of the SUV while wading through deep waters or moving on uneven tracks.
Space for luggage is decent
The terrain response feature was the most modern of that time so Land Rover made every effort to make it attractive for buyers. The 2.7-litre diesel unit produces 188bhp. It is a V6 unit and the refinement of the engine surprisingly better than the five-cylinder engine.
This power of Discovery enough to haul this big vehicle and accelerate quickly. The use of materials for the interior has also improved so you will get a better feel of the cabin. Space for luggage is decent and when you do not need all three rows of seats then this space increases further. It is durable too so you will be happy with the advancement. It is a heavy car of 2.7 tons and now you have modern lighter vehicles of similar size. With the bigger engine of 4.4-litres, you will have a better acceleration figure and sprint performance.