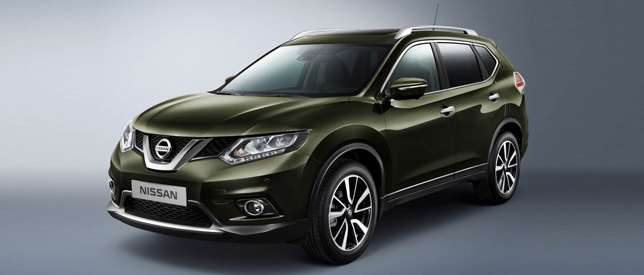 6

Mar

14
The engine line-up for the all new Nissan X-Trail, set go on sale in July, has been revealed at the Geneva Motor Show.
The new car made its debut at the last year's Frankfurt Motor Show and will go on sale in July 2014. The new look is inspired by the brand's popular Qashqai and Juke models and will have a host of high tech driver aids.
It will be launched with a 1.6-litre dCi Nissan turbodiesel engine, offering 128bhp and 320Nm torque, and will be available in two and four-wheel drive. The new X-Trail will be among the most efficient cars in class, emitting 129g/km CO2 in two-wheel drive form, which means an economy of almost 60mpg. In 2015, a 161bhp DIG-T turbocharged petrol engine will be added to the range. It will come in a choice of three trim levels: Visia, Acenta and Tekna. All cars will get air-conditioning, alloy wheels, six airbags, LED daytime running lights, five-inch colour combimeter display, Bluetooth with microphone, cruise control and speed limiter, hill start assist, follow me home lights and a luggage board system.
Nissan boss Carlos Ghosn said that the X-Trail will be built in five plants worldwide and sold in over 100 markets. "It's another segment busting model for us, like the Juke and the Qashqai," he added. A spokesman said: "New X-Trail is just as tough and accomplished as the previous generation model, but adds crossover style and efficiency, exciting design, innovative technology and exceptional comfort to set a new benchmark in the fiercely competitive C-SUV market."3
The X-Trail also gets two brand new technologies: Active Ride Control and Active Engine Break. The first monitors the road surface to detect bumps and alters the damping to compensate. The latter aids the driver by adding engine braking when the car is cornering or decelerating to a standstill for better and faster braking control.
The new X-Trail will also feature, Active Trace Control, a system currently only found in the Infiniti M. It uses on-board sensors to monitor speed, steering angle, throttle opening and braking effort to brake the individual wheels as necessary to reduce under steer. Uphill Start Support and Advance Hill Descent Control complete the range of technological aids. No prices have been announced as of yet, but expect them to be announced very soon.