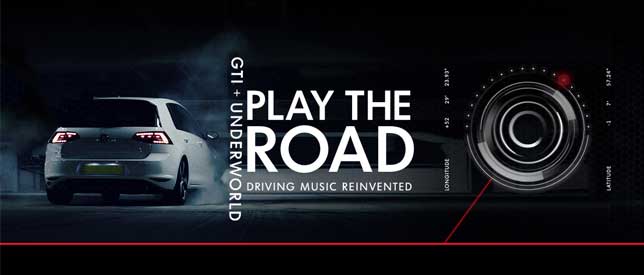 4

Feb

14
This new app is about music in your car but with a completely new approach. It generates music according to your driving style.
A new App from VW UK and Underworld dance studio
Generates Music according to your driving style
New App called "Play the Road"
Volkswagen UK and veteran dance studio Underworld have collaborated to produce a new smartphone app.  The new app uses; your driving speed, engine RPM, acceleration, steering and GPS to generate your music in real time. The app is named "Play the Road" and subtitled "Driving Music reinvented".
VW claims that the app gives "a unique and exhilarating driving experience." The app utilises data from the VW GTI's onboard computer and joins that with sensory data from the accelerometer, gyroscope and GPS of the smartphone. Underworld collaborated with "Audio Specialist" Nick Ryan to produce the new app. The main challenge facing the team was how to create a nonlinear composition that works as a dynamic soundscape for the VW GTI driving experience. The studio said: "To do this they created musical stems that could be attributed to locations and specific driving behaviours." VW also said to make this music app the car became an office.
The app is very useful for in-car use but sad news is VW hasn't made this app available for downloading. It is currently using the app as the basis of a track day competition where drivers enter to 'compose' music by driving around a special course.