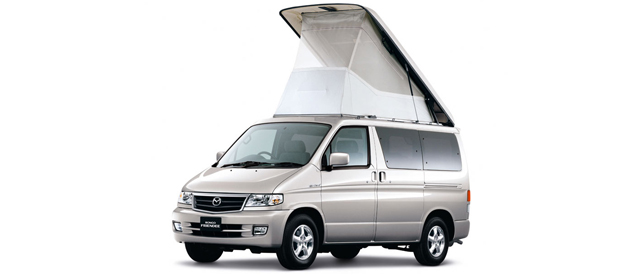 21

Nov

16
Your Ultimate Choice for Campervan with Good Utility Features
A born luxury MPV is shaped as van that is driven with great ease on different types of routes. The control of vehicle is ideal as it is e furnished with coil spring suspension and disc brakes add good value to road manners of the automobile. The said celebrity is the Mazda Bongo. That is why on bends it would not let you down in terms of stability.
The first time it was marketed way back in 1996 swept away all the rivals with great features like good suspension, four automatic speed transmissions, electric folding mirrors, elevating roof and window.
Finally, there was standard AC for all models at that time. Two decades ago that was nothing less than a dream but Bongo made it the reality. With the capacity of carrying eight passengers, this MPV is a great success story of Mazda.
The 2.5l Turbo diesel engine has enough power to cruise at speed of 80 miles per hour without losing any feature of comfort. Fuel economy adversely affected when it exceeds the speed described earlier.
 Space is enough to ride and use it as multi-berth without any labour
It is also known as camper due to the flexibility of interior that easily provides space to rest while you are on long journey. The elevated roof further accommodates two berths that is really an extra quality of modern camping transportation. By folding seats the cabin easily becomes a two storey compartment.
With these possibilities, Bongo is the only campervan that offer space to this extent. Price is another peculiarity of the vehicle as at this worth no other option is available. Japanese technology has won the game when compared with features of Mercedes and Volkswagen products of same category.
Especially the automatic roof elevating possibility has superseded rivals in utility. The system for entertainment is also excellent and different modes of sound are there to enjoy music that suits your likings.
User responsive specifications, environment-friendly engine and improved safety
Carbon emission issue has been addressed quite magnificently by controlling it with more purification through new system to match standards of many developed countries regarding pollution control. Being environment-friendly now it can be sold all over Japan in the same way it has proved as cost effective multipurpose vehicle.
User-friendly technological specifications are also a reason behind the popularity of new models of it. Safety precautions have been updated by providing airbags to all passengers. Use of fuel is further decreased in diesel engines to make them irresistible for new buyers. Cargo area on rear and rope hooks is there in every model.
By every means the vehicle is ideal for camp ride
By looking at the qualities of the car one easily impressed and enhanced engine performance turns it a favorite camper transport for friends and family. In terms modern tech it has outdone many other of this type of automobiles.