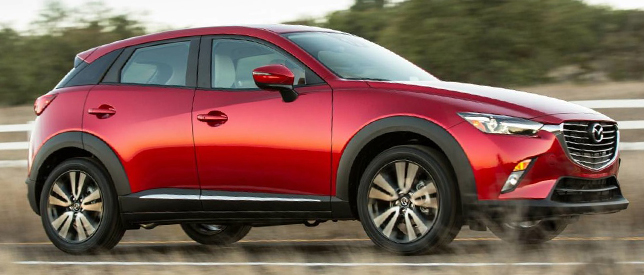 27

Jul

15
 Mazda has created the CX-3 combining an SUV with the practicality of a Hatchback
The compact crossover craze is continue at Mazda, this time Mazda has created a half SUV and a half hatchback version of the CX-3. It is an answer to the competitors like Nissan Juke, Peugeot 2008, MINI Countryman, Vauxhall Mokka and Renault Capture. It has to face a tough competition in the market.
The SkyActiv programme is continue with great fuel economy with efficiency and lightness. It is exclusively available on the petrol engines. It is the one who is shied away from turbocharged downsizing instead believing larger, naturally aspirated engines are the way to go.
What engine options available?
A 2.0-litre engine is capable of producing 118bhp and it is paired with a six-speed manual gearbox as standard, however, a six-speed automatic option is also available. Both gearboxes are mated to the front wheels.
The economy figures are rated at 48mpg on average while the carbon emissions are claimed at 136g/km on automatic transmission and 137g/km when the engine is mated to the manual gearbox. An Automatic transmission has a bit higher fuel economy than the manual, it returns 48mpg.
Any special trim offered?
In the sport trim, you can choose the CX-3 4×4 with petrol engine for the first time. In this trim power output is relatively higher with 148bhp, but efficiency figures are bit worse on the manual gearbox where it returns 44mpg and 150g/km.
What diesel options offer?
1.5-litre turbo diesel engine offers the best fuel economies with a power of just 104bhp and torque of 270Nm. The peak torque is almost 44Nm higher than any top petrol engine offered at CX-3. For the front wheel drive models, the manual gearbox is the only option. It returns 71mpg and 105g/km of carbon emissions. A 4×4 version is an option on this engine as well.
What to pay for new CX-3?
It is expected that the prices will be relatively higher than any of its competitors in the market but it is a well-equipped model with a robust interior