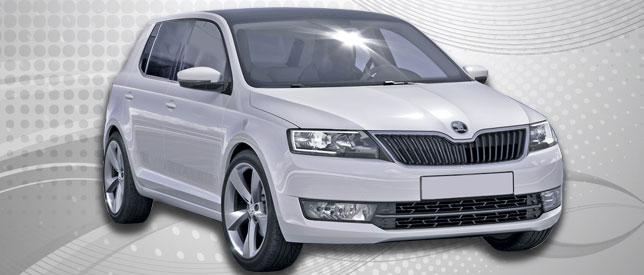 30

Sep

14
Third generation of Skoda Fabia Supermini is ready to hit the UK showrooms early next year, its bigger, muscular and smarter than ever
Skoda Fabia is a popular model in UK, and the all new third generation Supermini is ready to hit the UK shores early next year. Senior exterior designer at Skoda, Marko Javtic speaks to auto journalists about the new model. Javtic said that the new Skoda Fabia is a better package with muscular proportions while the old model was bit tall and looked heavier on the rear end. New Fabia is smarter and well balanced than the previous version.
In the third generation of Fabia, Skoda has selected the Volkswagen engines yet another time. In the third generation, Skoda Fabia engine line-up consists of revised engine range. It has 3-cylinder engines of 1.0-litre displacement, offering 59bhp to 74bhp power variants.
The VW Polo engine line-up will be offered in the third generation Fabia and it is the first time when any Skoda model is acquiring the entire engine line-up from Volkswagen. There are two high-end power versions available in new Fabia, an 89bhp and a 109bhp from 1.2 Litre TSI, both engines are also offered in VW Polo.
Being a most admired model in UK, how Fabia can miss a diesel option. There are two diesel power variants available, an 89bhp and a 103bhp from 1.4-Litre TDI engine. Both diesel engines are very fuel efficient and cleaner where they will emit the CO2 of less than 90g/km.
Skoda said that, after the launch of Fabia, they will introduce a more efficient GreenLine 1.4-Litre TDI engine of 74bhp. With the launch of this GreenLine line-up, Fabia will be known as the cleanest Supermini on sale in UK. It will offer 91mpg of fuel economy and 82g/km of CO2 emissions.  There is only Toyota Yaris Hybrid that can beat these figures with 75g/km.
Skoda Fabia is a smarter model that rides a refined platform, it has a couple of features borrowed from Volkswagen's MQB platform to reduce the weight. It weighs less than 1000kg when fitted with a 3-cylinder engine.  Prices are expected to start from just under £10,000.