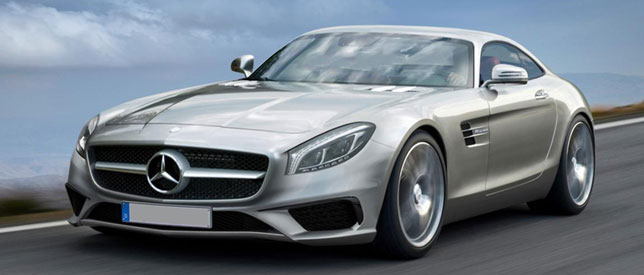 25

Apr

14
For some reason, Mercedes has shunned Benz from this new models' name with mighty engine
At the New York Auto Show 2014, Mercedes-AMG GT sports powered by a mighty V8 engine, made its first appearance, ahead of its scheduled September debut, where all the upcoming elements were showed officially.
There were rumours about this car to be called the Mercedes-Benz SLC and replacing the existing SLS AMG. This is the second stand-alone model – from Mercedes' AMG performance car subsidiary in Stuttgart, Germany – which was completely conceived, engineered and produced in the headquarters of AMG in Affalterbach.
When naming its new 4.0 litre V8  Mercedes-Benz engine with 500 horsepower twin turbocharged hidden beast, Mercedes has, for some unknown reasons, given up its traditional reference to one of its co-founders, Karl Benz.
The rumours are out that dropping the reference to Benz might be a part of Mercedes' wider initiative which will link AMG's future cars closely with Mercedes-Benz's F1 operations, which is titled as Mercedes AMG F1.
AMG boss Tobias Moers said: "The new Mercedes-AMG GT shows that we will be positioning AMG more vehemently and aggressively that to date, a GT sports car in its purest form." When the GT was announced at the New York Auto Show, previously having an internal codename C190, it turned the heads of almost all the spectators with it's extremely outclass interior.
The use of ultra high quality material and the combination of switch-gears and bespoke controls, mostly borrowed from latest S-Class and C-Class, made it the most desirable car in the show. The dashboard is covered in leather and carbon fibre, steering wheel is multifunctional and has shift paddles, there is a free-standing infotainment monitor, six round air vents, and major controls housed on a high-set centre console.
A seven speed dual-clutch gearbox is standard on this beast. There are four different driving modes, a race start feature, locking differentials, two-stage variable dampers and a sports exhaust system.
This pure evil has so much more to offer all you need is to jump in and experience what you have been missing.