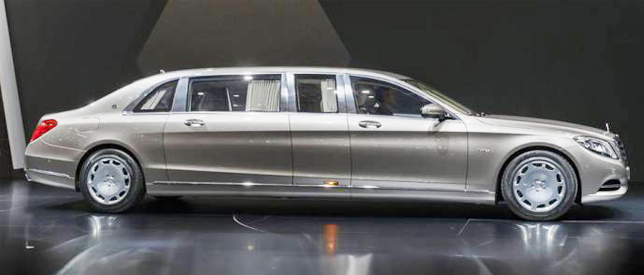 21

Apr

15
This new luxurious giant on wheels costs £370k, and from the inside it's nothing less than a luxurious yacht
It is true that the rich have a style of their own. It is visible from their living style, their vehicles and even the parties they throw. You probably would see many of the rich coming out of their Porsche, Ferrari, Bugatti or the BMW, Bentley and Rolls-Royce. But when it comes to limos, nothing can beat Mercedes specifically the S-Class.
It is also claimed as world's quietest production saloon and of course the range topper. It is royally luxurious so much so the person sitting in the rear seat literally considers himself as a king. More and more rich people are opting for the S-Class and the figures show that too as compared to 2013 the sales went up 74 per cent.
You would find plenty of rich extremely satisfied with their S-Class but on the same note there are few who seek something exquisite, adorable, awesome and unique to match their taste and will. For them the answer is, Mercedes-Maybach S600 Pullman.
The individual seating for four has been laid out so brilliantly that each passenger feels a level of comfort never felt before as they recline the same way as in a private jet. The fridge features silver goblets.
It is powered by a mighty 6.0-litre biturbo V12 Mercedes engine which produces 530bhp. You need to shell out £370,000 for one of these to be in your driveway but that would be in un-armoured form. The four passenger seating has been arranged in a face-to-face formation. This new one is almost a yard longer than the previous S-Class offered by Mercedes.
The luxurious features offered are:
Airbags in Seatbelts
Hot massaging recliner seats
Dining table between the seats
Heated armrests
Silver-plated Champagne flutes
Active perfuming in the vents
Magic sky control above the head
Glass, 18.5in widescreen TV/Computer monitor between you and driver
Robot tweeters in the doors for 3D audio set-up with 24 speakers
Self-driving technology at the wheels with "Intelligent Drive System"
Magic Body Control beneath your feet for absolute drive experience